Posted on
Mon, Apr 8, 2013 : 6:14 p.m.
Football brawl attorney on student's plea deal: 'It's a very good offer'
By John Counts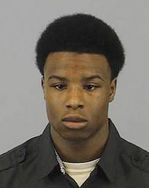 Courtesy of WSCO
The Pioneer student accused of swinging a crutch during last fall's high school football brawl was offered a deal that was too good to pass up, his attorney Walter White said Monday afternoon.
Bashir Garain pleaded guilty to one count of assault with a dangerous weapon in the Washtenaw County Trial Court Friday. A second count of assault with a dangerous weapon and two misdemeanor counts of assault and battery will be dismissed.
What's more, Garain has the opportunity to someday have a clean record. He received a deferred sentencing, which means if he fulfills all his obligations while on probation, the case will be expunged.
White said Judge Donald Shelton hasn't yet decided how long Garain will be on probation for. That decision is expected to come when Garain is sentenced in early May, White said.
The deal was struck just days before a jury trial was scheduled to begin on Monday. White said he and Garain went before Shelton for an unscheduled hearing Friday so those scheduled to testify weren't forced to show up Monday morning.
The deal was too good to pass up, White added.
"It's a very good offer," he said. "(Garain's) going to college. Hopefully by the time he goes to college, he won't have anything on his record. This will be the end of it."
Garain is one of three students charged in the football melee, which started when coaches from Huron High School and Pioneer met after the game Oct. 12 and began a verbal altercation that turned physical when assistant coach Vince Wortmann shoved Huron head coach Cory Gildersleeve.
Wortmann was not charged because prosecutors ruled he believed he was defending Pioneer head coach Paul Test. Wortmann was fired after the incident. Both head coaches have since resigned.
Garain and two 17-year-old boys were criminally charged. One 17-year-old student was found responsible in juvenile court on one count of misdemeanor assault and battery on Feb. 6. He is awaiting disposition, the equivalent of a sentencing, which is scheduled for April 30.
The second 17-year-old rejected a plea offer Monday that would have included a similar type of deferred sentencing and would have wiped his record clean if he complied with probation. His jury trial is set for June 24.
The cases have resulted in a fair amount of controversy. The Ann Arbor Concerned Citizens for Justice have protested at recent hearings, claiming the charges were racially motivated. All three students charged are black.
The Ann Arbor Board of Education also got into the fray, passing a resolution last month asking the Washtenaw County Prosecutor's Office to "re-evaluate the degree of criminalization" of the three students' actions during the brawl.
White also doesn't think prosecutors were right to charge the three.
"I really think it would have been better if no one had been charged out of the incident," he said. "It was either a lot of people were guilty or no one was guilty."
John Counts covers cops and courts for AnnArbor.com. He can be reached at johncounts@annarbor.com or you can follow him on Twitter.