Posted on
Wed, Nov 9, 2011 : 7:35 p.m.
Former EMU football player pleads guilty to lesser charge related to break-in
By Kyle Feldscher
A former Eastern Michigan University football player charged in connection with a campus dormitory burglary last month pleaded guilty to a misdemeanor charge and had a felony charge dismissed Tuesday.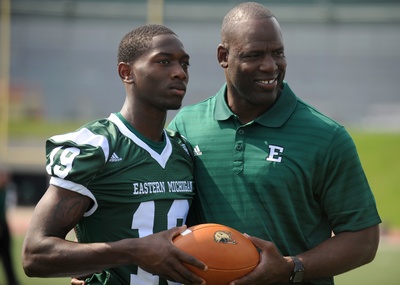 Angela J. Cesere | AnnArbor.com
Jairockeis Jones, 18 of Palm Coast, Fla., was originally charged with receiving and concealing stolen property of more than $1,000 but less than $20,000, according to 14A District Court Chief Judge Kirk Tabbey. That charge was dismissed and Jones pleaded guilty to a misdemeanor charge, punishable by up to one year in prison and a $2,000 fine plus restitution, Tabbey said.
According to police, Jones hid a computer he knew had been stolen during a burglary at Walton Residence Hall on EMU's campus. The computer and an iPod were taken from an unlocked room at about 6:10 p.m. Oct. 9, according to police.
Jones has been dismissed from the football team for an unspecified violation of team rules. Freshman defensive lineman Wilbert Mitchell was also dismissed from the football team for violating team rules on Oct. 11, the same day he was charged in the burglary.
According to police, Jones hid the computer for Mitchell.
Mitchell, 19 of Tulsa, Okla., is charged with second-degree home invasion and conspiracy. He was released on a promise to appear in court and waived his right to a preliminary hearing. He will be back in court on Dec. 1 for a pretrial hearing.
Tabbey will sentence Jones in the case at 9 a.m. Jan. 9 at 14A-2 District Court in Ypsilanti, according to court records.
Kyle Feldscher covers cops and courts for AnnArbor.com. He can be reached at kylefeldscher@annarbor.com or you can follow him on Twitter.