Posted on
Wed, Sep 7, 2011 : 6:29 p.m.
Ex-political candidate charged with murder in 2006 auto dealership robbery
By Lee Higgins
A former political candidate in Livingston County who was arrested and released in 2006 after being suspected in a robbery and fatal beating at a Scio Township auto dealership was charged Wednesday with murder in the case.
Shane Noel Roscoe, 46, of Redford, who was the 2006 Democratic candidate for Putnam Township supervisor, was arraigned Wednesday afternoon at the Washtenaw County Jail on a charge of open murder.
He is being held without bond.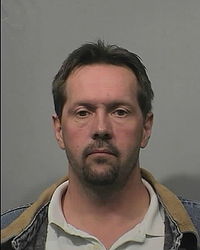 Roscoe is accused in death of 55-year-old William Sam Kenney of Lodi Township, who worked at Jim Bradley Pontiac-Buick-GMC on Jackson Road, where Roscoe was formerly employed.
Kenney was critically injured Aug. 18, 2006, after being beaten and run over during a robbery at the dealership. He died 27 days later.
Roscoe was arrested days after the robbery and jailed for two nights, then released by Washtenaw County sheriff's investigators, who obtained a sample of his DNA. He maintained his innocence. Roscoe lost the election that fall.
It's unclear what new evidence deputies have that prompted prosecutors to authorize the murder charge. Sheriff's department spokesman Derrick Jackson said he didn't have details.
During the arraignment, Roscoe said he is a divorced father of two and works at a commercial contracting company making $500 to $1,000 each week.
He told Magistrate Camille Horne that the investigation has been underway since 2006 and he's been working and living in the area.
"I'm just as anxious to get this over with as everyone else is," he said.
Washtenaw County sheriff's Det. Craig Raisanen told Horne that additional charges are likely, including breaking and entering. Raisanen said Roscoe is a flight risk and owns a house in Kentucky.
Roscoe has an extensive criminal record, including convictions for robbery, escape from custody, burglary and felonious assault, Raisanen said.
Horne ordered that Roscoe be held without bond and said she would appoint a public defender to represent him. A preliminary hearing is scheduled for Sept. 20.
If convicted, Roscoe faces up to life in prison.
Lee Higgins covers crime and courts for AnnArbor.com. He can be reached by phone at (734) 623-2527 and email at leehiggins@annarbor.com.