Posted on
Wed, Oct 26, 2011 : 4:53 p.m.
Former U-M assistant professor wanted on child porn charges leaves job in Israel
By Lee Higgins
A former University of Michigan assistant biology professor wanted on child porn charges has left his job at Ben-Gurion University of the Negev in Israel.
Tzvi Tzfira, 43, cited personal reasons when he announced earlier this month that he was leaving his post as an associate professor in the Department of Life Sciences, the school's legal adviser, Tamar Mund, said today.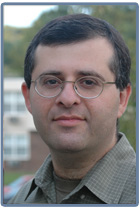 Tzfira was charged in February in federal court in Detroit with distribution of child pornography and possession of child pornography. Authorities consider him a fugitive. "We've been in contact with his lawyers, trying to work out something for him to come back," said Gina Balaya, a spokeswoman for the U.S. Attorney's office in Detroit.
Attorney Ray Cassar, who is representing Tzfira, said Tzfira has retained an attorney in Israel, who secured a gag order on the case in that country. Cassar did not have details on the order. He said Tzfira is entitled to the presumption of innocence.
AnnArbor.com reported last month that Tzfira was working at the university in Israel, seven months after being charged in the case.
Cassar has said that Tzfira went to Israel in December 2010 to care for his mother, who was seriously ill. He also has said Tzfira told the FBI and U.S. Attorney's Office he would return to deal with the case and that remains the plan.
Tzfira worked five years as an assistant biology professor at U-M, resigning in December 2010 to take another position, U-M officials have said.
He is accused of sharing child porn over a peer-to-peer network. The investigation began when Italian law enforcement officials contacted the FBI about several U.S.-based computers involved in distributing child porn, court records show. After following up on a specific screen name, FBI agents executed a search warrant on July 15, 2010, at Tzfira's home in Pittsfield Township, records say. One computer seized revealed more than 40 images of children engaging in sexual acts, an FBI affidavit says. Investigators say the children ranged in age from less than a year to 12 years old.
If convicted of distributing child porn, Tzfira faces a minimum of 15 years in prison.
Lee Higgins covers crime and courts for AnnArbor.com. He can be reached by phone at (734) 623-2527 and email at leehiggins@annarbor.com.