Posted on
Thu, Jun 6, 2013 : 1:05 p.m.
Gas station robbery suspects both held on $200K cash bonds
By Kyle Feldscher
The two men accused of robbing three gas stations earlier this week are being held in the Washtenaw County Jail on $200,000 cash bonds, records show.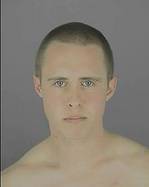 Courtesy of WCSO
Tyler Venema, 24, is charged with two counts each of armed robbery, being a felon in possession of a firearm and possession of a firearm during the commission of a felony and a single count of assaulting, resisting or obstructing a police officer, according to court records. He was arraigned at the jail on Wednesday.
Andrew Morales, 29, is accused of robbing the Shell Station at Eisenhower and State Street Tuesday morning. Morales faces a single charge of armed robbery and was arraigned on Wednesday, according to court records.
Venema, of Sebewaing, Mich., is suspected of robbing two BP gas stations with a shotgun on Washtenaw Avenue on Saturday and Monday.
The first incident took place at 2:30 p.m. Saturday at the BP station at 3720 Washtenaw Ave., in Ann Arbor. Police said the man, believed to be Venema, was wearing a ski mask when he entered the store, showed a long gun and took cash from the clerk. The man fled on foot before police arrived.
Two days later, Pittsfield Township police arrested Venema after he allegedly robbed the BP station at 4975 Washtenaw Ave. Police responded at 9:58 a.m. Monday to the station for a report of a person in a ski mask with a shotgun robbing the clerk.
Venema fled on foot as police arrived and he was arrested after a short chase, according to police. Police initially said a 25-year-old Sebewaing man was arrested, but court records show Venema is 24 years old.
Courtesy of WCSO
Ann Arbor police confirmed Venema was the suspect in their robbery as well after Pittsfield Township officers arrested him. Venema also is a suspect in a Bay City gas station robbery, according to Ann Arbor police.
The Bay City Times reported a BP gas station on Garfield Avenue was robbed at 4:30 a.m. Friday in a similar fashion. A white man in a ski mask brandishing a long gun demanded cash from the register. The man fled the area on foot.
Police in Bay City said Tuesday they had not confirmed Venema was the suspect in both cases with investigators in Ann Arbor or Pittsfield Township, according to the report.
Venema previously has served prison time for charges of second-degree home invasion and larceny from a building stemming from a 2006 offense, according to state records. He pleaded no contest to the charges and was sentenced in April 2009. He was released from prison in October 2011.
Morales was arrested Tuesday morning after he allegedly held up the Shell station. According to police, Morales pointed a gun at the clerk and demanded money.
He drove away in a minivan that was stopped by police a short time later. Morales was arrested, and the money and gun were both recovered, according to police.
Both men face a maximum sentence of life in prison and will return to court for preliminary hearings at 8:30 a.m. June 13, according to jail records.
Kyle Feldscher covers cops and courts for AnnArbor.com. He can be reached at kylefeldscher@annarbor.com or you can follow him on Twitter.