Posted on
Thu, May 19, 2011 : 5:55 a.m.
Guest of honor: The story behind an Ann Arbor police officer's death
By Rich Kinsey
About 6 years ago, a collection of the afternoon shift officers of the Ann Arbor Police Department walked to the Arbor Brewing Company on East Washington Street in downtown Ann Arbor. They were there for a celebration of sorts, but the guest of honor could not be physically present. The guest of honor was given a seat at the head of the table.
The assembled officers ordered one glass more than their number. The glass was filled with beer and placed before the empty seat and the officers toasted their guest of honor.
The server asked the assembled officers what this was all about. The officers explained that their toast was to Officer Clifford "Sid" Stang who 70 years earlier had been killed in the line of duty. The officers went on to explain that part of the location of Arbor Brewing Company had not always been a restaurant.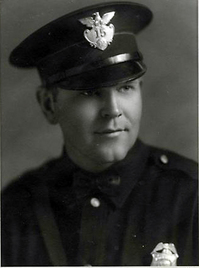 On March 21, 1935 the eastern section of the Arbor Brewing Company had been the Conlin and Weatherbee Clothing Store. On that fateful day, Officer Stang had signed the log book at the station and walked off toward his beat on Main Street. En route he stopped at that clothing store to buy a tie clasp for his uniform.
Mr. Conlin and Mr. Weatherbee were friendly merchant jokesters. In the past they had feigned being robbed, by putting their hands up, when the beat cops of the day walked by or entered their store.
Unfortunately when Officer Stang saw their hands up when he walked in, he was used to this sight and probably sick of the joke. This time it was no joke! Two men were robbing the store.
When Officer Stang realized that this was an actual robbery, it was too late. He physically fought both suspects to disarm them, but they had the element of surprise, a firearm and numerical superiority.
Officer Stang was shot in the abdomen. The bullet pierced his lung and major blood vessels and he was dead on arrival to the old Saint Joseph Mercy Hospital.
A year later one of Officer Stang's assailants, a ex-con named William "Shorty" Padgett was arrested. Padgett was tried twice for the murder, convicted both times and later in 1949 was paroled. The second bandit and killer was never identified.
Six years ago, the afternoon shift's server at the bar was told the story. That server told the other employees and was met with surprised looks and raised eyebrows. The officers' tale of their fallen brother actually explained a lot of things. The mystery of the "mailman" was perhaps solved.
It seems that there were some strange things that happened in the restaurant at closing time. According to the employees, doors sometimes closed for no reason. Several employees saw a "mailman" that walked down the windowed partition that separated the bar from a dining room.
According to the servers the "mailman" walked the length of the windows, but when employees went to check the area to remove what they thought was a leftover patron, who had stayed after hours, no one was there. Several employees had seen the same thing as well as a tenant that lived upstairs. All who saw the "mailman" swear they had not been sampling any brewery products and were sober when they made their observations of the "mailman."
The "mailman's" uniform did not look like a modern Ann Arbor police officer's uniform. However a 1935 police uniform looked a lot like a mailman's uniform of the day. Their hats were both equipped with black leather bills. Both letter carriers and police officers wore dark blue uniforms. The cops and the servers agreed that it made more sense that the "mailman" was actually a policeman -- Officer Stang.
When police officers lose a brother or sister officer we are told that they may have gone "end of watch," but they will always be out with us on patrol. Most officers have stories about times when for unexplained reasons they were apprehensive, scared or just using extra caution and they later found that their "instinct" was right. In those instances, had they done things as they normally would, the officer might have been hurt or killed by some unseen danger.
Perhaps their instincts were those "blue angels" that ride with them.
In any event on long lonely nights on patrol, the mind will wander. Officers will think of their loved ones, but will also at times think about people they have lost in their lives and more especially some of the police friends they have lost.
Maybe it is just a defense mechanism so their deaths do not bring sadness or maybe it is just the loneliness of the hour. Either way it is comforting to think you might have an angel riding shotgun with you.
Rest in peace Officer Clifford Stang.
Lock it up, don't leave it unattended, be aware and watch out for your neighbors.
Rich Kinsey is a retired Ann Arbor police detective sergeant who now blogs about crime and safety for AnnArbor.com.