Posted on
Thu, Sep 29, 2011 : 5:58 a.m.
Handling downtown Ann Arbor's panhandlers: Just say 'no'
By Rich Kinsey
Last Sunday's article about downtown panhandlers becoming a problem for local businesses is not surprising because the downtown beat walking/bicycle riding police officers are gone.
There is no one to keep the beggars and con artists moving along these days so it is going to be up to citizens to deal with them on some level.
First and foremost do not give them a penny! Give to your favorite charity, but do not give to street beggars.
Bless the citizens of Ann Arbor and Washtenaw County. We are a very giving lot and have done much for those in need. Ann Arbor has a fine shelter for the homeless in the Delonis Center. Free meals are prepared and distributed daily by local churches and community service organizations to those who need them. If someone is homeless and hungry, this county will take care of them if they can abide by the rules of the shelter (e.g. you cannot be drunk, drugged or disruptive). Therefore you have no reason to feel guilty in telling a panhandler, "NO."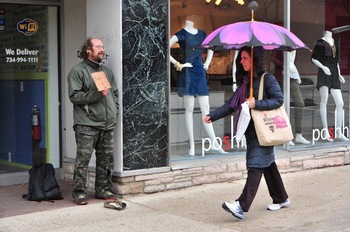 A couple of years ago, I wrote
a piece about the panhandlers at the top of exit ramps
that advertised: "Will work for food." That article had its genesis by my being approached by a con woman in Kalamazoo who cried she needed money, on a Saturday (when courts are not usually open) to get a cab to get to court to, "Get my (her) babies back." When I cut her off with, "No," the tears immediately dried up, a lower more powerful voice replied, "Shoot, you didn't even let me get the story out." She squared her shoulders and walked away.
After I wrote that column, there were some tremendous responses in the online comments. Most of them agreed that the panhandlers downtown and those with signs at the exits to freeways are con artists who make surprisingly good incomes.
Some in Ann Arbor have made several hundred dollars a day from the soft (and perhaps naive) hearts who give to help their fellow human. Unfortunately most of those gifts get spent at the liquor store or dope house as soon as enough capital is accumulated.
One of the points made in the previous column was that the guy or gal who "will work for food" -- won't. If you offer them a hamburger they look at you like you have lost your mind and colorfully tell you to go away.
One online commenter told the story of some well-meaning Washtenaw Community College (WCC) students who wanted to help the fellows begging for food at US-23 and Geddes. The WCC students decided to gather some goodies in a picnic basket and offer a lunch feast to the poor souls with the signs. Both freeway beggars told these students rather coarsely to get lost.
In speaking to several cops and criminals, I have found that there is a heroin dealer who orders his users out on the off ramps with the "will work for food" signs to generate cash. If a junkie is "dope sick," begging beats robbing or prostituting, but citizens should still not give these guys a dime.
We in Michigan are living in tough economic times. Perhaps there has never been a better time to give to those less fortunate if you can. By all means give generously to your favorite charity. However, do not give to panhandlers, it perpetuates the problem!
The best thing you can do when approached by a panhandler is to square your shoulders, appear confident and aware, look them in the eye and nod. If they ask for money, look serious but not angry, tell them "No" and walk past them. Do not feel guilty!

Report aggressive panhandlers to the police immediately. If a panhandler gets aggressive, yell, "Would someone call the police!"
Even if the panhandler has a heart-wrenching story do not feel guilty -- the stories are hogwash. "I need money for gas." "My (insert family member here) is very sick and needs medicine." One girl in a grocery store parking lot asked me,"I have a winning lottery ticket, but they won't cash it for me and I need gas to get back home could you spare a few dollars?" I offered to call the police to help her and she left.
If you are absolutely overcome by guilt (spelled G-U-L-L-I-B-L-E) or know the panhandler personally and like them (I must admit I have fallen prey here) and must give, make sure you have the money ready. Do not pull out your wallet or open your purse and, for goodness sake, do not let the panhandler follow you to the ATM.
Lock it up, don't leave it unattended, be aware and watch out for your neighbors.
Rich Kinsey is a retired Ann Arbor police detective sergeant who now blogs about crime and safety for AnnArbor.com. He also serves as the Crime Stoppers coordinator for Washtenaw County.