Posted on
Mon, Apr 8, 2013 : 12:35 p.m.
Heavy police presence will again be out in Ann Arbor following national championship game
By Kyle Feldscher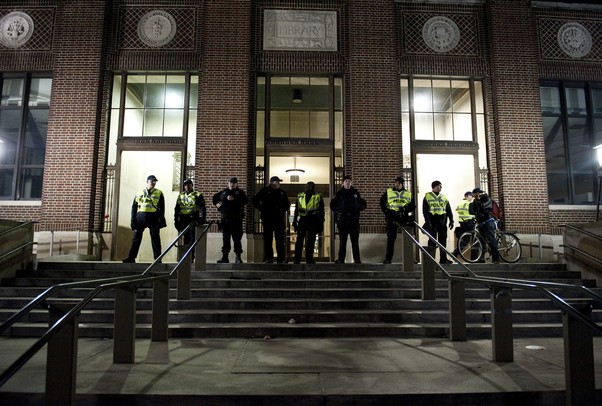 Daniel Brenner | AnnArbor.com
Ann Arbor police will keep a large, visible presence in the city following Monday night's basketball game and seek to continue to mostly peaceful celebrations seen Saturday.
Ann Arbor police Lt. Renee Bush said there was just one man arrested for disorderly conduct following the University of Michigan men's basketball team's victory of Syracuse University in the Final Four. With an estimated 1,500 people cheering on The Diag and a lot of happy, loud revelers snaking their way through Ann Arbor streets after the game, she said only having one arrest made for a "great weekend."
"Everyone was really happy and excited and responsible on Saturday, which was great," she said. "We expect the same excitement and cheering (Monday)."
Ann Arbor Fire Department officials said four couches were set on fire in the wake of the Wolverines' victory, but police do not appear to be criminally investigating those incidents. Bush told AnnArbor.com the fires are all being investigated by the fire department to this point.
Police were out in force in the city Saturday night and Sunday morning, with a particularly heavy force on South University Avenue. The one arrest made after the game took place outside of Good Time Charley's, near the corner of South University Avenue and Church Street.
Bush said a 25-year-old Ann Arbor man was asked to leave the bar and was being escorted out by a bouncer when he became belligerent. Bush said the man told the bouncer he was going to hit him, but the bouncer took him to the ground before he had a chance. The takedown occurred in front of an Ann Arbor police lieutenant, who took the 25-year-old man into custody.
Three other men were arrested at the BTB Cantina, located above Good Time Charley's, for disorderly conduct early Saturday morning as well, Bush said. Alcohol was involved in all the arrests from the weekend.
Police are expecting another large crowd to take to the streets following Monday night's game, regardless of the outcome of the game.
Bush said there would be a large, visible police presence on South University Avenue and other locations throughout the city, much as there was after Saturday's game.
University of Michigan Police spokeswoman Diane Brown told AnnArbor.com Sunday there will be more officers from that police force on staff Monday as well.
Personnel from numerous Washtenaw County police agencies will be in Ann Arbor to assist with policing the area following the game. Among the agencies are the Washtenaw County Sheriff's Office, Saline Police Department, Pittsfield Township Department of Public Safety and Ypsilanti Police Department, according to Ann Arbor police officials.
The biggest difference — besides the increased stakes of Monday's game — between Saturday night and Monday night could be the weather. While the temperature was cool late Saturday night, mostly clear skies made for ideal celebration conditions.
However, Monday could be different. The National Weather Service forecasts a 70 percent chance of rain, with showers and possibly a thunderstorm likely before 9 p.m. Temperatures are forecasted to be as low as 41 degrees with wind between 8 and 18 miles per hour.
Bush said the weather could have an affect on how many people take to outdoor celebrations, or expressions of frustration, after the game.
"We want to encourage people to be safe … the rain is definitely not on our side today," she said.
Kyle Feldscher covers cops and courts for AnnArbor.com. He can be reached at kylefeldscher@annarbor.com or you can follow him on Twitter.