Posted on
Thu, Jan 19, 2012 : 5:57 a.m.
Henny Youngman of Washtenaw County law enforcement retires
By Rich Kinsey
I was always impressed with the man's walk as he strode around the floor of Michigan Stadium. From my portal about 70 rows up from the floor of The Big House, I could tell from any angle who it was.
His 6-foot four-inch inch frame, ramrod straight or maybe even tipping backwards slightly, and his slow confident strides gave his identity away. There was no doubt who the Ann Arbor Police Department field commander was, and even though I could not see it from my height in the stadium, I knew there was a big confident grin on his face.
Here was a guy with a very storied career at the Ann Arbor Police Department. He had guarded U.S. presidents, was on a first name basis with one of the most prolific serial killers in the nation and who as a young detective worked on the "Michigan Murders" of young women by John Norman Collins. He has appeared on 60 Minutes and has been the mentor to many of the police chiefs in the area.
After a distinguished 47-year career in law enforcement, Saline Police Chief Paul Bunten has "pulled the pin" and taken off his badge to enter into retirement with his wife. Judy.
Chief Bunten spent roughly 30 years with the Ann Arbor Police Department rising from the rank of patrolman to captain. Chief Bunten spent the last 17 years at the helm of the Saline Police Department.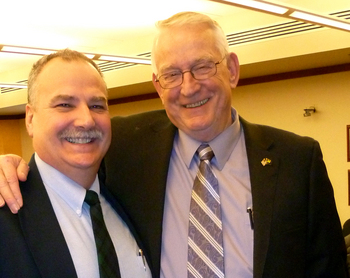 It was my good fortune to work with Paul Bunten at the Ann Arbor Police Department. Paul inspired me because he knew what he was doing, he was unflappable in a crisis, and he was fun to be around.
He has a tremendous sense of humor. If there was a Henny Youngman "King of the One-Liners" award in law enforcement, it would be awarded to Paul.
I first worked closely with Paul at the Special Investigations Unit when he was the lieutenant in charge. While Paul Bunten commanded the unit, it was very successful and was credited with several kilo or larger cocaine seizures and the forfeiture of $232,000 in cash from one dealer.
We worked hard for Paul Bunten, but we also laughed hard. This assignment came at a time when Peter Sellers was playing Chief Inspector Clouseau in the Pink Panther series of movies. Hardly a day went by without someone breaking into a French accent either on the surveillance radio frequency or around the office.
Paul Bunten loved to tell funny stories. Once he told us younger officers about processing a breaking and entering scene at a sorority as a detective. He was working hard lifting fingerprints at the scene and handing the lifted prints to a patrolman (who now was one of the senior officers in the surveillance unit and listening to the story as Bunten told it).
The patrolman holding the prints was putting them up to the light and appeared to be closely examining them. To impress the negligee-clad sorority sisters gathered closely, the patrolman explained in his Yooper accent, "Oh yeah, I recognize these prints. We'll get this guy. Don't you worry."
The Yooper had no idea whose prints had been lifted, but he sounded like Sherlock Holmes as then Detective Bunten shook his head and dutifully kept lifting prints.
Another great story of Paul's involved another command officer on his shift who had just purchased a new car and was closely monitoring the mileage. Paul would add a gallon of gas to the tank every night or so, and the other command officer would brag about the incredible gas mileage this car was getting. The sergeant was getting an astonishing 60-70 miles per gallon.
He bragged until Paul started siphoning a gallon or so a night from the tank and the mileage fell to single digits. The sergeant took the car to the dealership to complain and see if it could be tuned back up for high mileage.
Paul almost got us in both trouble at a funeral about a year ago. He leaned over as the service was about to start and told me: "Remember Rich, it's always better to be visited than viewed."
Perhaps you had to be there, but I am sure that even spirit of the retired brother in blue we were there to honor was shaking his head and chuckling somewhere. It is just the way cops relieve tension, and Paul Bunten is a master at it.
One of the most valuable and enduring lessons Paul Bunten taught me was never to take myself too seriously. Police work (and life really) is full of ups, downs, tragedies and triumphs. If an officer can learn to laugh and share smiles with his or her co-workers, they will in the end have a career they can proudly look back on.
Paul Bunten leaves behind many smiling faces, admirers and a tremendous career. Best of luck in retirement my good friend and mentor!
Lock it up, don't leave it unattended, be aware and watch out for your neighbors.
Rich Kinsey is a retired Ann Arbor police detective sergeant who now blogs about crime and safety for AnnArbor.com. He also serves as the Crime Stoppers coordinator for Washtenaw County.