Posted on
Thu, Nov 24, 2011 : 5:57 a.m.
Holidays are tough on shift workers' families
By Rich Kinsey
Happy Thanksgiving.
What a wonderful holiday to enjoy family, feast and count our blessings. In years past, I have asked you to thank all of the people who are out there serving and protecting while we sit with our families to enjoy good fellowship and good food.
This year, think of all the families of all the shift workers out there. Chances are as you sit down to feast there are plenty of families who were forced to have brunch because their loved one will be working an afternoon shift today or will have a later dinner for those on midnights and day shifts.
Some families will have to wait until a shift worker or service member can get home from some out-of-town or out-of-country assignment. Accommodations must be made for the shift worker and that falls on their loved ones.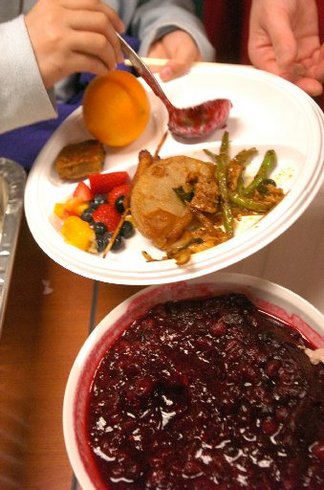 Behind every police officer, firefighter, paramedic, dispatcher, doctor, pharmacist, nurse, technician, clerk, aide, cook, soldier, sailor, pilot, and every other position that must be staffed 24/7 and 365 days a year, there is a circle of family, friends or others who care for them that must make sacrifices. These sacrifices are especially profound on holidays.
Shift work is tough on families since most of us live in a 9 a.m. to 5 p.m. world. Owing to odd sleep schedules, the shift worker must ask his or her family to respect the time they are sleeping. This is usually much easier said than done.
Shift workers' families try to be as quiet as they can. Kids are forced to tiptoe or wait to play with certain noisy toys and games. Shift workers' kids must also get used to a parent's absences at many evening programs and sports events.
However depending on the shift, some shift workers can become active participants at school events during the day where a "normal" day shift worker would not be allowed such participation.
The families of the shift worker and more specifically the shift worker who is also "on call" are constantly asked to make sacrifices so important jobs can be performed.
During the last 13 years of my career at the Ann Arbor Police Department, I estimate about one in every three Thanksgivings were interrupted by a phone call from the police department to either assist in finding a detective who could respond to a scene or responding myself to suspicious death scenes.
Several of those deaths were drug overdose cases. One particularly memorable case involved the drug overdose of a woman on the west side of the city.
My wife and I had just loaded our sons into the minivan and we were heading to my in-laws for Thanksgiving dinner when I got "THE CALL" from downtown. My wife and kids left without me.
I had some choice words bouncing around my cranky noggin for this girl who had ruined my Thanksgiving with her foolish drug use. Until I arrived on scene and realized the gravity of the situation --somebody's baby lay dead in the bathroom of a dope house.
This particular case I remember vividly because we had her picture from two years earlier on an out-of-state university's identification card. It showed a beautiful young face with all the world ahead of her.

Now I was looking at that same lifeless face with greasy, sweat soaked and matted hair pasted to her head. Pulmonary edema, which is a frothy white or pinkish post mortem biological stew that percolates in the lungs of overdose and drowning victims, was flowing from her mouth and nose. What a waste and what a tragedy.
A parent's worst nightmare lay before me on that Thanksgiving.
That was my Thanksgiving that year and I apologize to my family for that and all the missing or delayed holidays while I pursued a career I truly enjoyed and hope mattered.
Law enforcement is an interesting and rewarding career but the practitioner as well as their family must make many sacrifices. Thanks to my family for understanding.
I remind all who read this and who are enjoying Thanksgiving in any way shape or form to give thanks and tell your loved ones what they mean to you. Every day on this planet is a gift and none of us are certain when fate and circumstances may overtake our loved ones or us. Give them a hug, give them a call, and kid them about the some goofiness from Thanksgivings past, but let the people you care about know how you feel today.
HAPPY THANKSGIVING.
Lock it up, don't leave it unattended, be aware and watch out for your neighbors.
Rich Kinsey is a retired Ann Arbor police detective sergeant who now blogs about crime and safety for AnnArbor.com. He also serves as the Crime Stoppers coordinator for Washtenaw County.