Posted on
Fri, Sep 6, 2013 : 1:50 p.m.
Judge: Prosecutors can look through text messages of attorney accused of sexual assault
By John Counts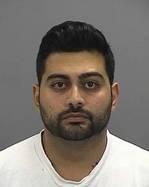 Courtesy of WCSO
After roughly three hours of arguments from attorneys on Thursday, Judge J. Cedric Simpson dismissed a defense motion that would have essentially prevented prosecutors from looking at certain text messages sent and received by Nader Nassif, the Ann Arbor attorney and former Downtown Development Authority board member accused of sexual assault.
Lawyer Jill Schinske and lead defense attorney Joe Simon argued that there is correspondence on the iPhone seized by police between Nassif and hundreds of clients that could be used by the prosecutor's office in other cases. The defense said the court should intervene and separate the text messages pertaining to the criminal charge — drug transactions and the sexual assault — and Nassif's work communication.
The defense argued that many of the text messages on the phone are protected by attorney-client privilege and that since the Washtenaw County Prosecutor's Office will be prosecuting many of those clients in the future, it should not have access to the messages.
"This isn't a standard case," Schinske said at the hearing in 14A-1 District Court Thursday. "There is this interconnectedness that is problematic."
Prior to being charged with one count of third-degree criminal sexual conduct, Nassif worked as a defender in Ann Arbor's 15th District Court, where he represented indigent clients.
Simpson ultimately sided with Washtenaw County Chief Assistant Prosecutor Steven Hiller, who pointed out the cell phone was legally seized with a warrant and outlined a procedure for dealing with the voluminous text messages on the cell phone.
The prosecution estimated there were about 8,000 pages of texts to sift through.
Hiller said the text messages are "under lock and key" at the prosecutor's office and that only three people, including himself and Assistant Prosecutor J. Samuel Holtz, have access to them. That team will go through the text messages, separate those pertinent to the criminal case from correspondence with clients. Those that could be used as evidence will be shared with the defense. Any messages protected by attorney-client privilege will be sent to the judge.
"We have no intention of introducing any privileged material in another case," Hiller said.
Simpson agreed to the procedure, though Schinske hinted at an additional complication when she posed a conditional question about a situation in which Nassif engaged in a narcotic exchange with a client.
That issue wasn't further addressed in Thursday's hearing, which is the second to precede Nassif's preliminary examination, still scheduled for Sept. 19. A third pre-preliminary exam hearing was also set for Sept. 12 to address a defense motion to dismiss the Washtenaw County Prosecutor's Office from the case.
Simpson said it would also give the prosecution the chance to update him on progress made with the text messages, adding that one of his biggest concerns was making sure all evidence is shared with the defense in a timely manner before the preliminary examination.
Nassif, a former member of the Ann Arbor Downtown Development Authority board, is facing a third-degree criminal sexual conduct count that indicates the alleged victim in the case was incapacitated and sexual penetration took place. Nassif knew or had "reason to know that the victim was mentally incapacitated and/or physically helpless," according to the complaint.
The alleged incident took place July 31 in his apartment in the 200 block of South Fourth Avenue. Nassif later resigned from the DDA and is no longer being assigned to cases in the 15th District Court, where his firm, Model Cities Legal Services, is contracted to provide representation.
Ann Arbor police obtained warrants and seized evidence on July 31, Aug. 1 and Aug. 2 including bed sheets, contents from a trash can, an iPhone and computer.
John Counts covers cops and courts for AnnArbor.com. He can be reached at johncounts@annarbor.com or you can follow him on Twitter.