Posted on
Thu, Dec 8, 2011 : 5:59 a.m.
Red kettle shenanigans in downtown Ann Arbor
By Rich Kinsey
In years past, members of the Ann Arbor Police Department used to ring the bell to fill the red kettles of the Salvation Army, usually on the last Friday before Christmas. There were numerous kettles staffed by both uniformed officers and detectives all over the city. I recall there were several on Main Street alone.
On one of those days, I spied Chief Douglas F. Smith in a proper chief uniform except for the red and white Santa hat and then captain — and now Saline police chief for the next few weeks until he retires — Paul L. Bunten ringing up a storm at the corner of Main and Washington streets, where the Mongolian Barbeque is located today. I am not sure what business was there at the time, but it was after S.S. Kresge dime store had moved out and before the Mongolian Grill invaded with its delicious barbecue and conquered the corner.

On this particular holiday Friday, Chief Smith and Captain Bunten did not see who was ringing the bell farther down Main Street in front of the Kline's Store and just a door away from Fiegel's Mens Wear. It was an extremely busy Friday afternoon. Traffic was heavy, and the sidewalks were crowded with frenzied shoppers doing quarter-to-panic holiday shopping.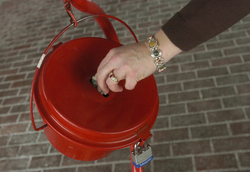 While I was ringing the bell near my assigned kettle, I spotted one of the young clerks at Fiegel's about to leave. He knew me pretty well since I had wardrobed myself for the Detective Bureau at Fiegel's. I asked him if he wanted to have a little fun with the chief of police and Captain Bunten. He said it sounded fun. I handed him a $5 bill and told him what to do.
I waited and got as far out on the sidewalk as I could to watch the fun. The young haberdasher had retrieved his car. He rounded the block and was now southbound on Main. He pulled up directly in front of Chief Smith and Captain Bunten. His car was blocking the crosswalk and the rest of it was in the Tow Away Zone.
Chief Smith and Captain Bunten just watched in amazement. When the car stopped the clerk left it running, jumped out of the driver's door and marched straight up to Chief Smith as if in a hurry. The clerk then told the stunned chief of police, "Hey General, here's five bucks, watch my car for me, would you?"
Paul Bunten told me later that he and the chief just looked stunned at each other for a moment. They could not believe the nerve of this guy. The clerk went to walk past the two rather tall, high-ranking cops and was in for his own surprise.
One of them collared the now shocked clerk. Not like in New York where they "collar perps" instead of "arresting suspects," but merely a grab to stop this joker's forward motion. Both police bosses started to discuss with the young man the finer points of parking in an urban area, proper respect for the pedestrian community, and the fact that they were not doormen but police officers and they would not be watching his car but towing it if he did not move it — NOW!
At about that time there was some frantic gesturing by the haberdasher pointing my way. The first hint of this finger pointing got me laughing hysterically. Then the bosses looked my way, nodded and did their own mocking "Shame on you, Kinsey" finger pointing.
Both the bosses came down to my kettle when they were through ringing the bell, and we all had a great laugh. I figured when I plotted the "Hey General, can you watch my car" prank that this pair of bosses could take the joke.
Chief Smith was the only chief of police to ever sneak up behind me while I was briefing the afternoon shift and place his wet leather gloved finger in my ear — a "Wet Willy" in prankish jargon. I was cranky and turned to protest, "Hey, you son of a … Oh, hello Chief Smith, so nice of you to join our briefing, sir." The shift and chief had a good laugh.




Chief Bunten of Saline, with more than 47 years of distinguished law enforcement service, is a mentor and a good friend to this day. I knew he could take a joke, as he had perpetrated many during his long and illustrious career. I loved working with Paul Bunten because we got the job done, but there were always laughs along the way.
I feel bad that the police department no longer rings the bell for the Salvation Army. The Salvation Army does a lot of good in our community. Personally I cannot pass a kettle without sliding a buck or two in. The Salvation Army depends on this time of year for donations — help them out and toss some change or a few greenbacks in the red kettle.
Lock it up, don't leave it unattended, be aware and watch out for your neighbors.
Rich Kinsey is a retired Ann Arbor police detective sergeant who now blogs about crime and safety for AnnArbor.com. He also serves as the Crime Stoppers coordinator for Washtenaw County.