Posted on
Mon, Sep 10, 2012 : 5:57 a.m.
Less enforcement, fewer arrests: Washtenaw County police report dramatic decreases in drunken driving arrests since 2006
By Kyle Feldscher
Statewide series on MLive.com: The Disappearing DUI: MLive finds wide disparities in drunk driving arrests; see how your police rank
Drunken driving arrests in Washtenaw County dipped between 2006 and 2011, with some police agencies seeing the numbers cut in half, statistics show.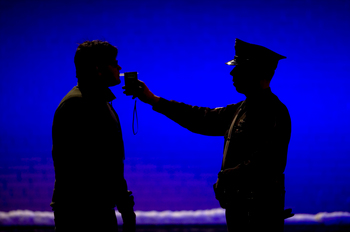 Photo illustration by MLive Media Group
The lack of new cases put Washtenaw County district courts — the 15th, 14A and 14B — at the bottom of the state rankings for drunken driving court cases per capita. The 15th District Court — representing Ann Arbor — and 14B District Court — representing Ypsilanti Township — had about one drunken driving arrest for every 1,000 people who are of driving age, according to an MLive Media Group analysis.
Those courts ranked 128th (14A), 134th (15) and 135th (14B) among 136 district courts in the state.
The decreasing number of cases come just as Michigan's drunken driving laws are getting tougher on those convicted.
New penalties for so-called "super drunk" drivers — people who are pulled over while driving with a blood alcohol level above 0.17 — went into effect in October 2010. Drivers who are convicted of driving with a blood alcohol level above that limit face up to 180 days in jail, a 45-day suspension of their driver's license, 320 days of restricted driving, between $200 and $700 in fines and one year's worth of alcohol treatment.
Super drunk drivers must have a ignition interlock device — a device that users breathe into to determine if they've been drinking — on their car for the entire restricted driving period.
The traditional penalties for drunken driving are a maximum of 30 days in jail, a 30-day driver's license suspension, 150 days of restricted driving and $100 to $500 in fines.
The issue for the police departments that send offenders to those courts is simple: There are just fewer officers on the road that can deal with drunken drivers than there were in years past.
Less dedicated enforcement means fewer arrests
In Ann Arbor, there were 214 drunken driving arrests in 2006, according to Michigan State Police statistics. The number of arrests dropped each year after that, bottoming out at 98 in 2010 before going back up to 101 in 2011, stats show. In that same year, Ann Arbor ranked 473rd out of 520 on drunken driving arrests per officer, registering 0.86 arrests for each of the 117 full-time officers employed that year.
Ann Arbor Deputy Chief Greg Bazick said Wednesday part of the explanation for the decreasing numbers is the lack of a dedicated drunken driving enforcement unit in the department. In years past, Ann Arbor police had uniformed officers who focused on finding drunken drivers, but crime response units in recent years have focused on home invasions and sexual assaults.
"As staffing has changed over time, we don't have units dedicated to drunken driving enforcement as in years gone by," he said, adding that a shrinking police force is one part of the equation.
Since 2007, Ann Arbor police have seen the force go from 150 sworn officers to 119, according to the latest city budget. With fewer people to deploy and other crimes grabbing the attention of city residents, Bazick said crime response units — uniformed officers that work with detectives to specifically solve rashes of break-ins or sexual assaults like the city saw in the summer of 2011 — for drunken driving have not been formed.
He said Ann Arbor police take drunken drivers seriously and individual officers still focus on finding intoxicated motorists on their own. However, dispatches coming from 911 calls take precedent.
"Even though there's no dedicated unit, that doesn't mean you don't have officers that take the initiative to do targeted enforcement if they're not tied up on other calls," Bazick said. "There's nothing to say they aren't actively looking for drunk drivers. We're not giving up efforts to enforce drunk drivers, there's just no specific drunk driving unit."
It's a similar story in Pittsfield Township, where drunken driving arrests went from 178 in 2006 to 76 in 2010, jumping back up to 106 in 2011.
Public Safety Director Matt Harshberger said the Michigan Office of Highway Safety Planning provided grants in earlier years to increase the number of details specifically targeted at finding drunken drivers. The department would post the schedule for the details for volunteers to fill and if all the spots were not filled, officers would be ordered to go on those details, he said.
As time went on, the department stopped ordering officers to take those details and they became volunteer only. Harshberger said that wasn't a staffing issue, but a decision to make sure the officers on those details wanted to be there. He believed that would make them more proactive in finding offenders.
"We take them seriously, obviously. Officers are out on patrols in business and residential areas looking for violations," he said. "We deem it to be serious; officers are very conscious about arresting those individuals and getting them off the street."
Drunken driving arrests look like they're going to be near the same level in Pittsfield Township in 2012, Harshberger said. There have been 77 drunken drivers arrested in 2012, and Harshberger said a ball park number of about 100 at the end of the year is expected.
Another large decrease was seen from the Washtenaw County Sheriff's Office, which went from 190 drunken driving arrests in 2006 to 100 in 2011. Instead of decreasing in a linear fashion, the sheriff's office reported making 238 arrests in 2008 before dropping down to 125 arrests a year later, state police data show.
It's a trend that sheriff's officials have recognized as well, said Dieter Herren, police services commander for the sheriff's office. Herren said the office will refocus attention on drunken driving and make enforcement a higher priority for deputies.
"We are reinforcing the significance of OWI enforcement with our staff. We are revisiting internal efforts to support our staff in this area," Herren said in a statement. "Moving forward, we will continue to monitor and assess our efforts in OWI enforcement."
More consistent enforcement
Some other departments have been more consistent with enforcement since 2006.
For example, the University of Michigan Department of Public Safety had 52 drunken driving arrests in 2006 and 45 in 2011.
Ypsilanti police arrested 68 drunken drivers in 2006 and 47 in 2011, but have averaged about 62 drunken driving arrests each year during that time frame.
Milan police arrested 22 drunken drivers in 2006 and the exact same number in 2011.
Washtenaw County's drunkest driver in 2012
In Chelsea, police arrested 21 drunken drivers in 2006 and 18 in 2011, but police there have the distinction of arresting the eighth alleged drunkest driver in the state of Michigan so far in 2012.
Chief Ed Toth said police responded at 8:30 p.m. May 2 to the area near the 14A-3 District Court in downtown Chelsea after being notified of an erratic driver. When officers approached the car, they found a 32-year-old Ann Arbor man who was allegedly so drunk they had to call an ambulance.
Rick Haas, who has been charged in the case, took a preliminary breath test and registered a 0.40 blood alcohol level, a full five times the legal limit of 0.08, Toth said. Haas was so drunk he couldn't go through the motions of doing field sobriety tests, according to police.
"We're lucky he didn't hurt anybody," Toth said.
Chelsea police have a policy of calling medical personnel whenever they encounter a drunken driver above a 0.35 blood alcohol level, which doesn't happen very often.
Toth said he was surprised Haas could even function with that much booze in his system, let alone actually drive. He said thanked the people who called in the report.
"I appreciate the citizens reporting this so we could get him off the road," he said.
Haas' case is going through the court system and he's been charged with operating with a blood alcohol level above 0.17 or more and operating while intoxicated. He was charged in the case on July 10 and was arraigned on Aug. 6. He pleaded not guilty to all charges.
Alternative reasons for a decrease
In Saline, police arrested 80 drunken drivers in 2006 but that number was more than halved by 2011 with 39 arrests. Detective Don Lupi said there were a few reasons outside of staffing that he believed that number went down.
Lupi said pushes to educate drivers on the dangers of driving drunk has caused more people to put peer pressure on their friends.
"Twenty years ago, friends may not have made such a big deal about other friends driving after drinking alcohol," he said. "Now, pressure is being put on peers not to allow other peers to drive after drinking alcohol."
Lupi said police in Saline have a heavy presence in the downtown area where most drunken drivers would be found. That reputation has spread and Lupi said he's heard people will purposely avoid going through downtown Saline because they know patrol officers are out in force, which could contribute to the decrease.
But, Lupi echoed the points of Bazick and Harshberger when he said money that used to be allocated for targeted drunk driving enforcement is now going elsewhere.
In 2006, Saline police would participate in every state-funded drunken driving detail. That's no longer the case.
"Now, because of general budget reasons, there is not as many available officers to participate in those programs," he said. "That's bigger than Saline, that's the economy in general."
Kyle Feldscher covers cops and courts for AnnArbor.com. He can be reached at kylefeldscher@annarbor.com or you can follow him on Twitter.