Posted on
Sat, Dec 1, 2012 : 5:59 a.m.
Former crew member describes methods used in home invasion schemes
By John Counts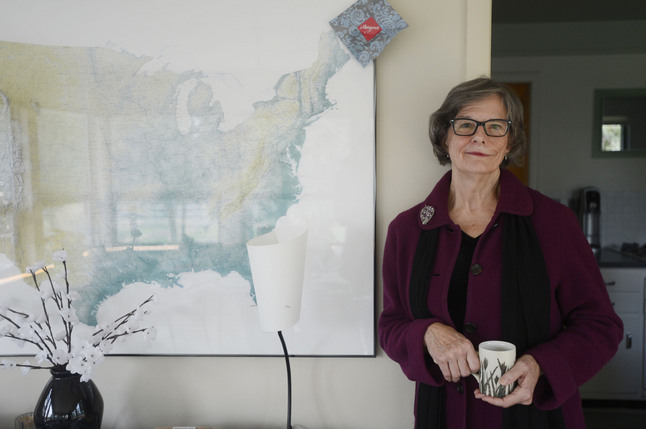 Melanie Maxwell | AnnArbor.com
The crew targeted houses where no one was home. Many of the houses were for sale. They would ring the doorbell 15 to 20 times before breaking in. One member had a police scanner application on his smartphone to make sure they could make a getaway if authorities showed up.
These methods of the Dexter-based crew accused of breaking into 10 homes during the summer were revealed during court testimony from one of its members who took a plea deal in exchange for his testimony.
Steven Colwell, 25, of Lima Township, took the stand Thursday in the continuation of a preliminary examination at the 14A-1 District Court against Jeffrey Arthur Schuh, 54; his son Jeffrey Aron Schuh, 20, both of Dexter; and Quang Nguyen, 19, of Ypsilani Township.
A judge found there was probable cause the men committed the crimes and bound their cases — with various home invasion charges — over to circuit court. They were given a pretrial hearing date of Jan. 16 in Judge Archie Brown's courtroom.
How the crew operated
Colwell talked about how he first got recruited and went into detail about several of the home invasions themselves, including the one on Quail Ridge Drive in Dexter Township that led to Colwell's arrest.
Colwell said he has known Jeffrey Aron Schuh for between five and 10 years. The two attended Dexter High School together.
"(He) had mentioned he had a two-man crew for breaking into houses," Colwell said. "He said he wanted to make it a three-man crew. I took the work. I had a heroin addiction I was feeding."
The second man in the crew was Ngyuen, who was in charge of scouting the houses and had the idea to break into homes that were for sale, Colwell testified. Ngyuen also had a scanner app on his phone. The crew would monitor police radio traffic to see if there were any calls for tripped alarms.
Colwell testified the three men went on a spree of home invasions starting in early July and ending with Colwell's arrest in early August. Jeffrey Arthur Schuh, who is charged in three of the nine cases, operated as lookout on some of the jobs, Colwell said.
The crew communicated via text message and regularly would meet at 11 p.m. to case houses. Jeffrey Aron Schuh's Buick served as transportation. The first house they hit was in the 1700 block of Ives Lane in Ann Arbor. Colwell recalled entering the house through a sidedoor, taking a television and loading it into Jeffrey Aron Schuh's car.
Colwell went on to testify that he participated in eight additional break-ins with the crew in Ann Arbor, Ann Arbor Township, Scio Township, Webster Township and Dexter Township. Police say the crew made off with foreign coins, two-dollar bills, equestrian trophies, jewelry, silver goblets, electronics, cash, a guitar and custom-made brass bullets.
"We'd pawn it, sell it, try to make money off of it," Colwell said when asked what the crew did with some of the valuables.
Colwell said he did most of the pawning, but that in one instance, Ngyuen came into Lewis Jewelers with him.
"He wanted to see how much money I got and to make sure I didn't skim any money off the top," he said.

Steaks, lobsters and Red Bulls
Colwell's testimony described how the crew ransacked the houses looking for valuables. He also talked about how the crew stabbed a wall with a sword, didn't flush toilets after using them and used a stolen credit card to buy top-shelf food at Meijer's and had a feast at the Shuh's Dexter residence after a break-in.
The crew also didn't limit their victims to strangers.
The house the crew broke into in the 35000 block of Richmond Drive in Ann Arbor was where Ngyuen's ex-girlfriend lived, Colwell testified, and that Ngyuen knew the family was out of town on vacation. Colwell said Jeffrey Arthur Schuh broke out a window then served as a lookout as the three other men entered the house. Colwell took a Fender guitar and jewelry, which are items police recovered and linked Colwell to the crimes.
At a home in the 3100 block of East Delhi Road in Scio Township, the crew committed more vandalism than larceny.
"We broke into a window in the back," Colwell said. "There wasn't a lot in this house. We did some damage. I broke a chandelier. (Ngyuen) stabbed a wall with a sword (from a suit of armor). Jeff Junior said he took a crap and didn't flush it."
The crew always tried to only break into houses where the people were not home and did so every time except once, Colwell said.
At a home in the 1000 block of Newport Road in Ann Arbor, Colwell recounted coming across a person sleeping in a bed before the ransacking could begin.
"I flashed a flashlight on the bed and that someone was sleeping," he said.
That person was Margaret Leary, who said she never woke up throughout the break-in. At the first installment of the preliminary examinations for the Schuhs and Ngyuen first session on Nov. 8, Leary testified she woke up around 5:30 a.m. and discovered her kitchen had been rummaged through and the front door was wide open.
As soon as Colwell saw the sleeping Leary, the crew fled, but not before Colwell could steal a wallet. Colwell said he kept the cash and gave the credit cards to Ngyuen. Colwell was then dropped off somewhere while Jeffery Aron Schuh and Ngyuen used the card to buy gas and food.
"They told me they went to Meijer's to purchase items," Colwell said.
The two men bought lobsters, shish kabobs, steaks and Red Bulls. Colwell said he later came over to the Schuh's residence in Dexter's Walkabout Court apartment complex to feast with the rest of the crew.
During his testimony, Colwell also identified two surveillance pictures from Meijer of Jeffery Aron Schuh and Ngyuen making the purchases with the stolen credit card.
Getting caught
The crew wouldn't be eating lobster for long, however.
Colwell said Ngyuen had "scouted" a Dexter Township residence and had been in it earlier that day and taken two class rings. That home, however, was on Fischers Way. The house Colwell, Jeffery Aron Schuh and Ngyuen later broke into was on nearby Quail Ridge Drive around 4 p.m. on Aug. 9.
When Colwell saw they had to break out the back sliding glass doorwall, he said he knew it wasn't the house Ngyuen already had been broken in to.
"We broke the door open with a flat crow bar," Colwell said. "I went into the bathroom and proceeded to look for any pharmaceuticals."
The three men then found a safe in a closet and tried, unsuccessfully, to pry it open.
"We just gave up on it," Colwell said.
While Colwell was in the master bedroom putting items like jewelry in a pillowcase, he testified he heard Jeff Aron Schuh say there was someone in the driveway. The three ran out of the house, got into Schuh's Buick and fled the scene in front of the woman, who remained in her car.
The woman, Christine Davis, earlier testified she pulled up into the driveway and saw suspects unloading items from her home into a beige Buick. Police were able to link the vehicle description to the crew. Colwell was arrested the next day. A search warrant of his house revealed numerous stolen items, police have testified.
Colwell said he didn't want to be the only one charged in the case, which motivated him to take the stand against the Schuhs and Ngyuen, who were charged in October for the crimes.
Colwell already has pleaded guilty to five counts of second-degree home invasion and the court has agreed to a reduced sentencing of two to 15 years in prison in exchange for his testimony against his former crew.
Attorneys for the three defendants argued the testimony from Colwell, who told the court he had a $50-a-day heroin habit at the time and was using drugs "every day" during the period the break-ins occurred, was unreliable.
"The only thing we've heard is testimony from a self-interested, biased, drug-addled witness," said Steve Tramontin, Jeffrey Arthur Schuh's attorney.
Bond motions for the defendants were denied by Judge Chris Easthope. Nguyen and Jeffrey Aron Schuh are being held on a $10,000 bond on each case, totaling $90,000. Jeffrey Arthur Schuh's bond totals $30,000. They are all being held at the Washtenaw County Jail.
John Counts covers cops and courts for AnnArbor.com. He can be reached at johncounts@annarbor.com or you can follow him on Twitter.