Posted on
Sun, Feb 24, 2013 : 11 a.m.
Man accused of breaking bottle on other man's head arraigned
By John Counts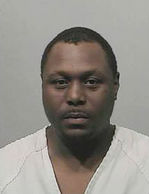 Courtesy of WCSO
The 34-year-old Ypsilanti Township man accused of breaking a bottle on the head of a man he suspected of making amorous advances on his girlfriend has been charged with assault, according to court records.
Bobbie Joe Cunegin was arraigned on a charge of assault with a dangerous weapon Feb. 14, court records show.
The day before, police say Cunegin attacked a 47-year-old Ann Arbor man because the man was with Cunegin's girlfriend on the sidewalk near the intersection of East Ann Street and North Fourth Avenue.
The 30-year-old woman, who was staying at the Delonis Center homeless shelter at the time, told police she was "just hanging" with the 47-year-old man while waiting for Cunegin to bring her a cell phone charger, according to the police report.
When Cunegin arrived, he saw the two together and became jealous, police said. The woman told police Cunegin started yelling at her for being with an older gentleman, according to the report.
Cunegin then walked up to the 47-year-old man and hit him in the head with a bottle, according to police.
Witnesses said purple liquid showered over the victim when the bottle broke on his head. The police report describes the bottle as some kind of energy drink.
Police originally described Cunegin as homeless and the report indicates he initially gave Ann Arbor officers a different name. Court records list an Ypsilanti Township address as his residence, however.
Cunegin's next court hearing is scheduled for Feb. 28. Bond was set at 10 percent of $3,000 at the arraignment. Jail records show Cunegin is not currently in custody.
John Counts covers cops and courts for AnnArbor.com. He can be reached at johncounts@annarbor.com or you can follow him on Twitter.