Man accused of groping three women in Ann Arbor is held on $60,000 bond
Posted on Sat, Jul 2, 2011 : 2:39 p.m.
An illegal immigrant accused of groping three women, including two joggers, during the past week and a half in south Ann Arbor, remains jailed on $60,000 bond.
Mario Segundo-Segundo, 35, who is originally from Mexico, was arraigned this morning at the Washtenaw County Jail on three counts of fourth-degree criminal sexual conduct.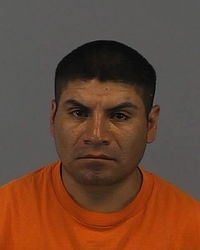 He is accused grabbing a woman from behind about 8:20 p.m. Wednesday while she was jogging in the 2600 block of South Main Street, Ann Arbor police said. Segundo-Segundo allegedly lifted her off the ground and groped her genitals over her clothing, police said. The victim reportedly elbowed him to get away.
He also is accused of grabbing a woman's buttocks earlier that day in a parking lot at Briarwood Mall. In addition, police say he rode by on a bicycle and grabbed a woman's buttocks while she was jogging June 21 in the 2300 block of South Main Street.
He was arrested Thursday afternoon.
In court today, he was assisted by a Spanish interpreter. When Magistrate Mark Nelson read the first charge against him stemming from the June 21 assault, Segundo-Segundo said, "No. I did not want to do anything like that."
Nelson explained that he was asking whether Segundo-Segundo understood the charges and that he had a right to remain silent. Segundo-Segundo told Nelson he could not afford an attorney. He said he is a married father of three who has been living in Ann Arbor for 8 to 10 years. Prior to that, he said, he lived in Mexico.
He said he's been working 30 to 35 hours each week at a Qdoba restaurant, making $7.75 an hour. He landed the job two months ago. He doesn't own a car or have a bank account and pays $200 each month in rent, he said.
Nelson said he would appoint a public defender to represent him. Segundo-Segundo said he's never been arrested.
Nelson set a total bond of $60,000 cash or surety. Segundo-Segundo's 38-year-old brother, Delfino Segundo-Segundo, who lives in an apartment with him, watched the arraignment on a television screen in the sheriff's department lobby.
As a friend translated for him, he told AnnArbor.com that he thought the bond was too high. He said he wishes his brother could be deported immediately, rather than sit in jail. He said his brother has been married 17 years and has a 16-year-old son and two daughters, ages 12 and 4.
If his brother did what he's accused of, "it's not right," he said.
"I don't believe it."
A preliminary hearing in the case is scheduled for July 13.