Posted on
Wed, Feb 20, 2013 : 1:30 p.m.
Man accused of hitting police officer while driving drunk at Burger King arraigned on charges
By John Counts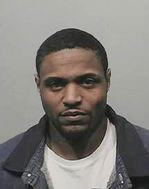 Courtesy of WCSO
The 39-year-old Ypsilanti man who police say struck and injured a Pittsfield Township officer with a car in a Burger King parking lot last week was arraigned on several charges Feb. 15, according to court records.
Robert Lamont Addie was charged with assault with a dangerous weapon, two counts of resisting a police officer, fourth-degree fleeing police and operating while intoxicated, third offense.
Pittsfield Township police were called to the Burger King at 6190 W. Michigan Ave. — nearly right across the street from the police station -- at 1:38 p.m. Feb. 14.
Two men inside a 2003 Ford Taurus were "causing a disturbance with employees" as they went through the drive-thru. Officers repeatedly told Lamont, who was driving, to park the Taurus, according to police.
Police say Lamont accelerated at a high rate of speed through the parking lot and struck an officer before leaving.
The officer was knocked to the ground and suffered minor injuries, according to police.
The officers pursued the Taurus on a short chase westbound on Michigan Avenue, which ended at Saulk Trail Drive. Police say Lamont resisted arrest but was eventually subdued and taken into custody.
John Counts covers cops and courts for AnnArbor.com. He can be reached at johncounts@annarbor.com or you can follow him on Twitter.