Posted on
Fri, Dec 28, 2012 : 11:48 a.m.
Man accused of lighting house on fire, then attacking construction workers with baseball bat
By John Counts
A 30-year-old man faces numerous charges after police say he lit his family's Ypsilanti Township home on fire, then went on a rampage with a baseball bat, breaking out car windows and attacking workers at a construction site on Dec. 18.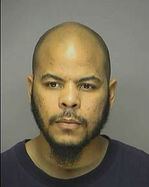 Courtesy of WCSO
Carlos Lee McBride was arraigned Dec. 20 on charges of arson in dwelling, first-degree home invasion, two counts of assault with a dangerous weapon, assault with intent to rob and two counts of assaulting or resisting a police officer.
Around 3 p.m. Dec. 18, deputies from the Washtenaw County Sheriff's Office were dispatched to the 8800 block of Trillium Drive after receiving reports of a man breaking out car windows with a bat, Sgt. Geoff Fox said.
Deputies observed McBride standing in the area holding a baseball bat. Fox said he cooperated at first, but then started to resist arrest which resulted in him being Tasered and taken into custody. A subsequent investigation revealed McBride was living in the area with family. While the family was gone, police think McBride intentionally started a fire in the home which caused significant damage to the kitchen.
"(He) then left the house and started walking down the street with a baseball bat," Fox said. "As he walked, he hit numerous cars with the bat and broke out multiple windows. He also broke out windows to several homes in that same area."
Police estimate there were eight car and three home windows smashed.
"(He) then got to a new home construction site and confronted workers in the area," Fox continued. "One of the workers was struck with the bat and then McBride hit a cement truck numerous times, breaking out two windows."
The truck driver also was assaulted with the bat before McBride walked away, police said.
McBride is being held in the Washtenaw County Jail with no bond. His next court date is Jan. 3, police said.
John Counts covers cops and courts for AnnArbor.com. He can be reached at johncounts@annarbor.com or you can follow him on Twitter.