Posted on
Wed, Apr 27, 2011 : 3:55 p.m.
Man accused of running over ducklings with Hummer didn't know he struck anything, his lawyer says
By Lee Higgins
A man accused of deliberately running over four ducklings with a Hummer on Monday night in a McDonald's parking lot in Ann Arbor had no idea he hit anything and that's what he told police, his attorney said this afternoon.
Dillon Robert Pearce, 19, of Ann Arbor is charged with killing an animal. His attorney, David Nacht, said he's confident it was an accident and plans to take the case to trial.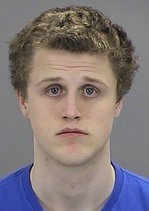 "Dillon Pearce is an honest person and he doesn't have any kind of strange attitudes or pathologies towards animals," Nacht said.
"The notion that it is intentional is ridiculous."
Pearce, who is out on bail after being arraigned Tuesday, declined to comment when reached by phone this afternoon.
Ann Arbor police said Pearce deliberately ran over the ducklings in the parking lot of the McDonald's at 2675 Plymouth Road, where he initially stopped to pick up food at 6:15 p.m. Monday.
Police said Pearce stopped at the drive-thru, when one of his friends got out and attempted to pick up a duckling. A duck and at least 8 ducklings had been walking in the lot, police said.
Employees yelled at the man to stop, police said. The man got back into the Hummer, which left the parking lot, pulling into an adjacent lot for about 15 minutes while the men ate their food, police said. Witnesses told police that the Hummer then returned to the lot and ran over the ducklings, police said. The Hummer left the parking lot without stopping, police said.
Nacht said when Pearce and the other two men in the Hummer first stopped at McDonald's, they told restaurant employees that there were ducks in the parking lot and they needed to do something about it.
Pearce stopped by the McDonald's a second time to purchase more food, Nacht said. Asked why his client allegedly didn't stop after the accident, Nacht said, "he was driving a Hummer, and he had no reason to believe he had struck anything."
Pearce has attended some college and is working toward becoming a professional hockey player, Nacht said.
"My client is a good guy from a supportive, positive family and he will get through this and he is disturbed that people might wrongly think that he would be the type of person that would intentionally run over a duck," Nacht said. "It's just ludicrous."
A preliminary hearing is scheduled for May 4. If convicted of the felony charge, Pearce faces up to four years in prison.
Lee Higgins covers crime and courts for AnnArbor.com. He can be reached by phone at (734) 623-2527 and email at leehiggins@annarbor.com.