Posted on
Fri, Feb 8, 2013 : 4:50 p.m.
Man accused of scalding 3-year-old in bath water to be sentenced on secondary charge Monday
By John Counts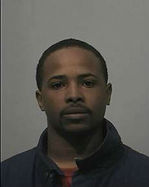 Courtesy of the Washtenaw County Sheriff's Office
The 22-year-old Superior Township man accused of putting a 3-year-old boy in a scalding bath that was so hot some of the boy's skin came off is scheduled to be sentenced Monday on one of multiple charges related to his case.
Harvey Wince is set to be sentenced for resisting and obstructing police, though he still faces torture and first-degree child abuse charges in the same case. In November, a jury was unable to reach a verdict on those two charges and Judge Melinda Morris ruled it a mistrial, according to court records.
Wince pleaded guilty to resisting and obstructing just as the trial began. A separate pretrial hearing on the torture and child abuse charges will also take place Monday.
Wince was babysitting for the 3-year-old at his townhouse on MacArthur Boulevard in Superior Township the morning of March 31 when he is accused of giving the boy a bath so hot the child's skin came off.
"I saw his feet (were) red, then I got scared and I didn't know what to do. I was in shock," the boy's mother testified at Wince's preliminary examination. "I just saw that his skin was gone. I saw some in the bathroom. (Wince) swept the skin and threw it in the garbage."
Wince told police the child was given a lukewarm bath after getting into a skirmish with other children outside and vomiting on himself.
Wince had a bench warrant out for his arrest on a home invasion charge and was arrested immediately after questioning at the Washtenaw County Sheriff's Office detective bureau. As police attempted to handcuff Wince, he kicked and fought the officers, which is why he was also charged with resisting arrest.
Wince remains in the Washtenaw County Jail on $50,000 cash or surety bond.
John Counts covers cops and courts for AnnArbor.com. He can be reached at johncounts@annarbor.com or you can follow him on Twitter.