Posted on
Tue, Oct 30, 2012 : 5:56 a.m.
Man accused of shooting 3 in drug deal gone bad takes plea deal
By John Counts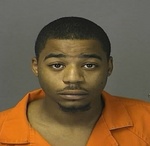 From Ypsilanti Police
The 24-year-old Ypsilanti man accused of shooting three people near Eastern Michigan University's campus in March in what police say was a botched drug deal took a plea deal Monday in the Washtenaw County Trial Court.
Quenton Dodson pleaded guilty to felony firearm and no contest to three counts of assault with intent to do great bodily harm. Nine other counts, as well as a habitual offender status, will be dismissed at sentencing.
The prosecution, who needed time to think about any plea deal in the case, did not accept a deal as far as sentencing. Dodson will serve at least two years in prison on the felony firearm charge, a sentencing mandated by the state.
Judge Melinda Morris will decide Dodson's fate in the three assault counts he pleaded no contest to Monday. A charge of assault with intent to commit great bodily harm has a maximum penalty of 10 years in prison. Any time determined in those charges would be in addition to the two-year felony firearm sentence.
A no contest plea is not an admission of guilt, but is treated as such by the court for sentencing purposes. Dodson's attorney, Washtenaw County Assistant Public Defender Stephen Adams, said the no contest pleas were entered to protect Dodson from civil liability.
The shooting incident occurred in Ypsilanti on March 23 in the 300 block of Jarvis. According to police, Dodson was attempting to sell Oxycontin to four people when the deal suddenly fell apart. Police said Dodson pulled out a gun and fired on the group, injuring three people between the ages of 18 and 20. One man was hit in the stomach, one suffered a hip wound and another was struck in the chest. All of them survived the incident. Dodson was eventually arrested in Detroit and brought back to Washtenaw County to face charges.
Dodson was charged with three counts each of assault with intent to murder, assault with intent to do bodily harm less than murder and four counts of assault with a dangerous weapon. He also is charged with carrying a concealed weapon, being a felon in possession of a firearm and felony firearm.
All but the three charges of assault with intent to do bodily harm less than murder and felony firearm will be dismissed in the plea deal.
He is scheduled to be sentenced Nov. 26.
John Counts covers cops and courts for AnnArbor.com. He can be reached at johncounts@annarbor.com or you can follow him on Twitter.