Man accused of stealing credit cards at U-M returns to court Thursday
Posted on Sun, May 6, 2012 : 3:31 p.m.
The man accused of working with another man to steal unattended backpacks and wallets from the University of Michigan and then use the credit cards will be back in court Thursday.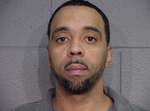 Courtesy of the state of Michigan
Todd Wilson, 42, is facing two counts of larceny in a building and three counts each of possession of a stolen financial transaction device and stealing a financial transaction device. He'll be in court for a preliminary exam at 8:30 a.m. Thursday, according to court records.
Wilson, who has 15 known aliases and has been convicted of four felonies since 1989, is being held in the Washtenaw County Jail on a $5,000 cash or surety bond.
Wilson is accused of stealing a wallet from an unattended purse between 12:45 and 1:30 p.m. March 5 in the Literature, Science and Arts Building, 500 S. State St. Charges were made on a credit card belonging to the victim after it was stolen, according to police.
Wilson and Jason Russ, 41, were supposedly working together to steal unattended bags and backpacks during the first few months of 2012 on U-M's campus. Russ pleaded guilty to six counts of stealing a financial transaction device and two counts of possessing a stolen financial transaction device on April 30.