Man accused of stealing laptop with anti-theft software charged with 2 felonies, released on bond
Posted on Wed, Jun 20, 2012 : 6:40 p.m.
A 19-year-old man accused of stealing a laptop from an Ann Arbor home that then snapped his picture when anti-theft software was activated is free on a personal recognizance bond.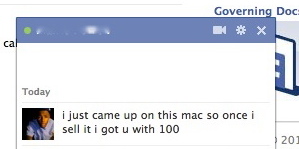 Courtesy of Logan Chadde
Jaquan Smith, of Ypsilanti, is charged with larceny in a building and larceny of items worth more than $1,000 but less than $20,000, according to court records. Smith was arraigned on the charges during walk-in arraignments on Friday and the court complaint was filed Wednesday morning, records show.
He was given a $25,000 personal recognizance bond and is not lodged at the Washtenaw County Jail.
Smith is accused of stealing Logan Chadde's laptop sometime between 10:45 p.m. June 2 and 2:45 a.m. June 3 from the bedroom of a home in the 500 block of Elm Street. There was a party at the house during that time frame, but Chadde and another roommate were not at home.
When the two men returned, they discovered thousands of dollars in baseball hats, video games, checks, office equipment and a backpack containing Chadde's laptop were stolen.
Chadde said he reported the laptop stolen to Orbicule, a company that makes anti-theft software he purchased. When suspect fired up the stolen laptop and logged onto a "Guest" account, the laptop's webcam snapped a picture of his face, a screenshot of what he was doing on the computer and the location of the laptop. Chadde provided the information to Ann Arbor police, who eventually arrested Smith at an Ypsilanti apartment.
The screenshot showed a Facebook conversation Smith was having, revealing his intentions to sell the laptop, according to Chadde.
The stolen laptop was found at the apartment and returned, Chadde said.
A personal recognizance bond is essentially a promise from the defendant to the court that he or she will show up to all subsequent court hearings and comply with bond conditions in exchange for not having to go to jail. If that person doesn't show up for a court hearing or violates bond conditions, he or she is on the hook for the full amount and may be lodged in the county jail.
Smith will be back in court for a preliminary exam at 8:30 a.m. June 28, according to court records. He faces a maximum penalty of five years in prison on the charge of larceny of property worth more than $1,000 but less than $20,000 and four years in prison on the larceny in a building charge.