Posted on
Tue, Oct 30, 2012 : 6:11 p.m.
Man accused of trying to steal acquaintance's bike escorted from courtroom for shouting
By John Counts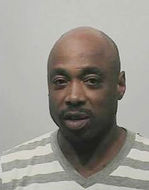 Courtesy of the WCSO
A 41-year-old man who was told he couldn't address a Washtenaw County courtroom about his bond Monday refused the judge's order and began shouting about the alleged victim in his robbery case.
Percy Lee Frame, who has been charged with armed robbery and carrying a weapon with unlawful intent, wished to speak to Judge Melina Morris about a motion to reduce his $25,000 cash bond.
Frame did not follow the court's rules when Morris told him he could not address the court in the matter.
"I didn't rob him," Frame shouted in the court, referring to the acquaintance Ypsilanti police say he tried robbing at knifepoint on Aug. 8 in Ypsilanti. "He was a drug addict, your honor. He's a liar. They know he's lying. He's a dope fiend."
Deputies escorted Frame out of the courtroom before the bond hearing was concluded. Frame could be heard shouting in the courtroom for the next several minutes from the lock-up area behind the judge's bench.
He kept repeating, "They know he's lying!" and "I didn't rob him!"
Morris denied the bond motion. Frame's attorney, Washtenaw County Assistant Public Defender Stephen Adams, told the court Frame's mother is in the hospital and that Frame wanted to see her before she died.
Assistant Washtenaw County Prosecutor Robyn Liddell said Frame has an extensive criminal history including charges of malicious destruction of property, fourth-degree criminal sexual conduct and cocaine possession.
"He used a knife to steal a bike," she told the court before requesting Morris deny the motion.
Ypsilanti police said Frame knocked his acquaintance off a bike.
"(He) then pulled a knife on him and told him the bike was his now," Sgt. Thomas Eberts wrote in an email. "Witnesses confirmed that this happened and heard Frame yelling about the victim owing him money."
Police did not immediately furnish details about where the incident took place. Frame is listed as homeless in court records. Another court hearing was not set.
John Counts covers cops and courts for AnnArbor.com. He can be reached at johncounts@annarbor.com or you can follow him on Twitter.