Man accused of having sex in elevator with 14-year-old girl, then lighting it on fire
Posted on Tue, Jul 24, 2012 : 6:45 p.m.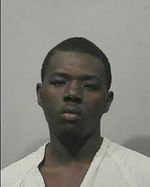 Courtesy of the Washtenaw County Jail
Previous story: Man who reported elevator fire on U-M campus is suspected of arson; teenage girl also held
The 23-year-old man accused of lighting a fire at a University of Michigan parking structure Sunday morning has also been charged with criminal sexual conduct for allegedly having sex with a 14-year-old girl inside the elevator before the blaze was started.
Darion Cole-Hickonbottom, of Ann Arbor, was arraigned in district court Tuesday on charges of arson, third-degree CSC and larceny from a motor vehicle.
The couple is accused of first going through the parking structure on South Forest Avenue looking for vehicles to steal from, U-M police spokeswoman Diane Brown said.
"They're accused of stealing items of clothing and an Xbox controller," she said.
Police said Cole-Hickonbottom and the girl then made their way to the parking structure on Church Street, where they allegedly had sex inside the elevator. While still in the elevator, police believe they started a fire on the floor using cardboard and at least one of the items of clothing taken from a vehicle, Brown said.
U-M police received a call from the emergency phone at the Church Street parking structure at 6:22 a.m. After interviewing Cole-Hickonbottom, who made the emergency call, police decided he was the likely suspect in the arson that burned the elevator cab, causing around $3,000 worth of damage.
The Ann Arbor Fire Department was called to extinguish the fire.
The 14-year-old female was quickly located by police near the Church Street parking structure Sunday morning. She is not being named because of her age and because she is the victim of an alleged sex crime. A petition was filed in juvenile court to authorize an arson against the girl, Brown said.
"She's a runaway from Ann Arbor," Brown added.
The other two third-degree CSC counts Cole-Hickonbottom faces stem from alleged sexual incidents that took place with the 14-year-old girl between July 20 and 22 at Veterans Memorial Park in Ann Arbor, police said.
Cole-Hickonbottom is currently lodged in the Washtenaw County Jail on a $250,000 cash bond.

View Parking Structures in a larger map