Posted on
Fri, Dec 9, 2011 : 12:16 p.m.
Two plead guilty to Ann Arbor home break-ins, may serve up to 15 years in prison
By Kyle Feldscher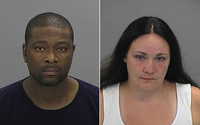 The man and woman
accused of breaking into four homes in Ann Arbor
on Aug. 1 and stealing electronics have pleaded guilty to home invasion charges.
Michael Johnson, and Bonnie Metro, both of Ypsilanti, pleaded guilty to four counts of second-degree home invasion Wednesday in front of Washtenaw County Trial Court Judge Archie Brown.
Metro admitted to breaking into four homes with Johnson and stealing a TV from one home and electronics from two others.
"I entered the home behind my co-defendant Michael Johnson and took stuff from the bedrooms," Metro said through tears to Brown during the hearing.
Metro, 43, and Johnson said they broke into four homes between 9:45 a.m. and 12:30 p.m. on Aug. 1 before they were arrested. The homes were located in the 300 block of East Jefferson Street, the 800 block of Greenwood Avenue, the 900 block of Oakland Avenue and the 1000 block of Oakwood Avenue. Johnson was 31 at the time of the crimes.
Metro and Johnson were arrested at about 12:30 p.m. on Aug. 1 on Oakland Avenue as Ann Arbor police officers responded to one of the break-ins.
Ann Arbor police said at the time that residents were home at two of the houses.
Each count of second-degree home invasion carries a maximum of 15 years in prison and a $3,000 fine.
Both Johnson and Metro faced a total of 10 charges. The other six original charges will be dropped at the time of sentencing, according to the plea agreement reached with Washtenaw County prosecutors.
Metro and Johnson's attorneys both reached sentencing agreements with Brown as well. Metro will serve between four years and four months and 15 years in prison, according to the agreement. Johnson will serve between six-and-a-half years and 15 years in prison, according to the agreement.
Metro will be sentenced at 1:30 p.m. Jan. 18 and Johnson will be sentenced at 1:30 p.m. Feb. 29.
Washtenaw County prosecutors also promised they would not charge Johnson and Metro in outstanding Ann Arbor police investigations in which they are also suspects. Washtenaw County Assistant Prosecutor Dianna Collins notified Brown she would contact the detective working the case and tell him to submit evidence to prosecutors for review.
Kyle Feldscher covers cops and courts for AnnArbor.com. He can be reached at kylefeldscher@annarbor.com or you can follow him on Twitter.