Man arraigned on charges for allegedly spray-painting Ann Arbor buildings
Posted on Thu, Oct 4, 2012 : 5:35 p.m.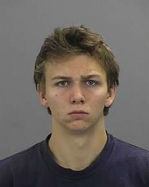 Courtesy WCSO
A 22-year-old Ann Arbor man accused of vandalizing three buildings and a city park this week was arraigned Thursday on five counts of malicious destruction of property.
Henry Einer Carlson was arrested Tuesday night with a backpack containing cans of spray paint in the 700 block of Packard Street, Ann Arbor police said. The man was allegedly spray-painting the letters "PORS" in pink and black on buildings in the area.
Carlson is charged with MDOP between $1,000 and $20,000, MDOP less than $200, MDOP of gates and fences, MDOP of boundary markers or lampposts and MDOP signs or billboards, according to court records.
Police were dispatched to the Packard area at 11:15 p.m. Tuesday. Officers could hear the sound of metal cans clinking together in the Carlson's backpack when they made contact with him, police said. The man was then taken into custody. He also is accused of vandalizing equipment at Forsythe Park.
Jail records indicate Carlson is not currently in custody. Magistrate A. Thomas Truesdell set his bond at 10 percent of $2,500 during the arraignment, according to court records.