Posted on
Fri, Jan 11, 2013 : 3:45 p.m.
Man arraigned on charges in purse snatching near Ann Arbor city hall
By John Counts
A 24-year-old Clawson man was arraigned on two charges in a purse snatching that occurred Thursday morning near Ann Arbor's city hall and police department.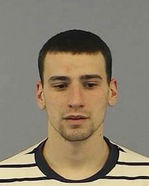 Courtesy of the WCSO
Kyle Phillips was charged with unarmed robbery and larceny from a person at a video arraignment Friday afternoon in the Washtenaw County Jail. Phillips was set to be released from the jail after receiving a $10,000 personal recognizance bond from Magistrate Thomas Truesdell.
Truesdell appointed an attorney for Phillips and also sent him to check in with community corrections.
"There are some allegations you have a substance abuse problem," Truesdell said.
"I absolutely do, sir," Phillips said.
Phillips told the magistrate he had never been convicted of a felony.
A preliminary examination was scheduled for Jan. 24.
Police say the man forcibly took a purse from an Ann Arbor city employee in the 300 block of East Huron Street as she was walking to the Municipal Center around 7:30 a.m. Thursday. The suspect then fled north on Division Street with the purse.
Phillips was arrested about a half hour after the employee went into the police station and gave officers a description of the suspect. A subsequent investigation resulted in the recovery of the woman's stolen property from four locations, police said.
John Counts covers cops and courts for AnnArbor.com. He can be reached at johncounts@annarbor.com or you can follow him on Twitter.