Posted on
Wed, Jun 26, 2013 : 3:44 p.m.
Man arrested for breaking into Ann Arbor home told resident he wanted to buy weed
By Kyle Feldscher
A 57-year-old man is being held on home invasion charges after he walked into an Ann Arbor home and told a resident he was trying to buy marijuana.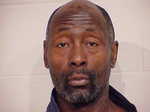 Courtesy of the state of Michigan
Ann Arbor police Detective Chris Fitzpatrick said Bernard Hardwick was arrested Tuesday after he broke into a home on Catherine Street. Fitzpatrick said a neighbor saw Hardwick standing on the porch of the home in the 300 block of Catherine Street before he entered through the unlocked front door.
Hardwick went through a couple of rooms in the home before being confronted by one of the residents. Hardwick told the man he was trying to buy some weed and then fled the area on foot, Fitzpatrick said.
The resident and the neighbor who saw Hardwick enter the home both called police and officers responded at 1:10 p.m. Tuesday to the area. Fitzpatrick said road patrol flooded the area and eventually stopped Hardwick near the intersection of State and Huron streets.
Fitzpatrick said Hardwick had a pocket full of change from one of the rooms in the Catherine Street house. He was placed under arrest for breaking in.
"He's a suspect in other things we've had in the last month or two," Fitzpatrick said.
Hardwick was arraigned Wednesday at the Washtenaw County Jail on a single count of first-degree home invasion. He received a 10 percent of $5,000 bond and will return to court for a preliminary exam at 8:30 a.m. July 9, Fitzpatrick said.
Jail records show Hardwick was lodged at the Washtenaw County Jail Wednesday afternoon.
State records show Hardwick has an extensive criminal history. He served two and a half years in prison for two larceny in a building convictions from 1976; served more than three years for assault with a dangerous weapon and attempted larceny in a building and more than 12 years for breaking and entering a building with intent to commit a crime and assault with a dangerous weapon for a 1991 conviction.
He was convicted of larceny in a building in 2001 and then, while on parole, was convicted of assault with intent to rob and steal while unarmed in 2004. His prison stint from those two crimes lasted until June 22, 2012, according to state records.
Kyle Feldscher covers cops and courts for AnnArbor.com. He can be reached at kylefeldscher@annarbor.com or you can follow him on Twitter.