Posted on
Tue, Oct 2, 2012 : 6:05 p.m.
Man accused of cooking meth in Mustang has pending drug case
By John Counts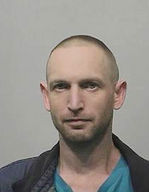 Courtesy of WCSO
The 36-year-old Ypsilanti Township man arrested Monday night and accused of cooking methamphetamine in the front seat of his Mustang convertible faces charges for from a previous incident in which he was accused of making the drug in pop bottles, police said Tuesday.
Jeremy Bryant has three pending charges from May 30, when police discovered a number of drug-making-related items at a mobile home police said Bryant occupied in the 9000 block of Geraldine Street in Ypsilanti Township. The charges are maintaining a methamphetamine lab, delivery or manufacture and possession of methamphetamine.
Bryant had a preliminary examination scheduled for that case in the 14A-1 District Court Tuesday morning, the day after he was arrested again on suspicion of cooking meth in pop bottles. He has not yet been charged in the most recent incident, said Sgt. Geoff Fox of the Washtenaw County Sheriff's Office. He was arrested Monday night on accusations of violating a court order, but will likely face additional drug charges in the future.
"He has not been charged with the incident last night because the investigation is not done yet and we need lab results and documents," Fox said.
Tuesday's examination was adjourned in light of the new incident and because Bryant did not have an attorney present. A judge set a $25,000 cash bond and Bryant continues to be held in the county jail. At the time of Monday night's incident, Bryant was free on bond, which was set at 10 percent of $10,000 at the time of his Sept. 5 arraignment. Deputies arrested Bryant and found meth and drug-cooking materials on his person and in his Ford Mustang, which was parked in front of a family member's home, police said.
Neighbors say the people who live in the house are in their 70s.
Jessica Gilbert, who lives on the same block of 7900 Briarbrook Drive, said Bryant started showing up in the neighborhood a few months ago and would often be seen sleeping in the Mustang parked at the curb.
She described the neighborhood as a "very peaceful place" where kids play in the street.
"Everyone's completely blown away by this," Gilbert said about Monday night's arrest. "I'm glad it got resolved before anyone got hurt."