Posted on
Tue, Dec 6, 2011 : 3:29 p.m.
Man who allegedly used bus as bank robbery getaway vehicle held on $250,000 bond
By Kyle Feldscher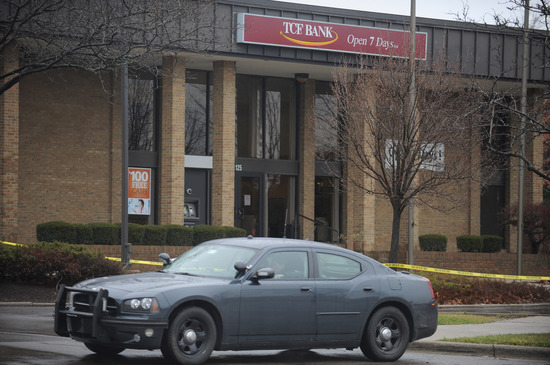 Angela Cesere | AnnArbor.com
The man who was arrested because he allegedly robbed the
TCF Bank
near Briarwood Mall and then caught a bus in an attempt to elude police was charged with bank robbery Tuesday.
Lorenzo Patterson, 30, of Ypsilanti, is being held at the Washtenaw County Jail after being arraigned on one count of bank robbery. He is being held on a $250,000 cash bond, according to jail records.
Ann Arbor police said Monday Patterson walked into the TCF Bank at 125 Briarwood Circle and demanded money from the teller at the window. Police said there was no weapon ever seen or implied during the incident and no note was given to the teller.
According to police, the teller gave Patterson an undisclosed amount of money and he left the bank on foot before getting on an eastbound Ann Arbor Transportation Authority bus. Police allege Patterson was returning to his Ypsilanti home.
It is Ann Arbor police policy to not release the amount of money taken during bank robberies. Police said all of the money taken from the bank was recovered.
Patterson allegedly took the bus into Ypsilanti where he was confronted by officers from the Ypsilanti Police Department, according to Det. Sgt. Troy Fulton.
He then ran from police for a short time before ultimately surrendering on Hawkins Street between Hill and Franklin streets, Fulton said.
Mary Stasiak, a spokeswoman for the AATA, said Monday it's not unusual for police to notify the service that they are looking for suspects or possible runaways in the area.
She was not sure exactly how Monday's incident played out, whether the driver of the bus headed into Ypsilanti recognized the suspect and alerted police or if police knew which bus he was on, but she said bus drivers are given training on how to communicate with police.
Patterson is scheduled to have a preliminary exam at 1 p.m. Dec. 14 at the 14A-1 District Court, 4133 Washtenaw Ave. A request for his mugshot has been submitted to Washtenaw County authorities.