Posted on
Sat, Mar 2, 2013 : 6:07 p.m.
Ann Arbor man at U-M emergency room drives away in ambulance
By Lisa Carolin
A Huron Valley Ambulance vehicle is back in circulation after being taken for a joyride late Friday by a man waiting in the University of Michigan Hospital's Emergency Room.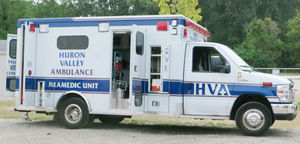 The man, who was waiting to be seen, drove away in an ambulance that was parked outside at 11:30 p.m. Friday.
U-M police spokeswoman Diane Brown said the driver of another ambulance saw the man drive by and didn't recognize him. The HVA employee reported the incident and the Washtenaw County Sheriff's Office caught up with the unknown driver on Huron River Drive near the entrance of Washtenaw Community College.
The vehicle was pulled over and the driver was arrested. He is 19-years-old, from Ann Arbor, but not affiliated with the University of Michigan.
The suspect was taken back to the ER for evaluation. Brown says that it is likely he was intoxicated. He was then taken to jail waiting for charges to be authorized and then arraigned.
Brown says there are likely to be multiple charges against him including unlawful driving away of an automobile.
Further details, including why the man initially sought medical attention, were not immediately clear.
Lisa Carolin is a freelance reporter for AnnArbor.com.