Posted on
Thu, Sep 23, 2010 : 7:56 p.m.
Man charged in parrot attack has lengthy criminal record
By Lee Higgins
A Jackson man accused of violently shaking his pet parrot Tuesday on an Ann Arbor street has a lengthy criminal record, including convictions for third-offense domestic violence and assault with a dangerous weapon, Washtenaw County court records show.
Christopher Alan Turpen, 49, was arraigned Wednesday at the Washtenaw County Jail on charges of animal torture and delivery of marijuana.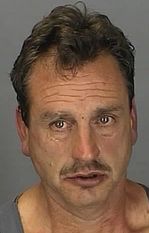 Turpen can't be released because he is being held for authorities in Sarasota, Florida, who have a warrant charging him with assault and battery, jail officials said this afternoon.
Ann Arbor police say Turpen, who kept the parrot in his backpack, shook it violently as its feathers flew, causing enough commotion for three witnesses to call 911. Officers arrested Turpen on South Main Street at 9:30 p.m. and found an unspecified quantity of marijuana in his backpack, Lt. Mark St. Amour said.
Turpen claimed he was disciplining and training the bird, police said. According to police, the parrot fought back, leaving one of Turpen's thumbs scratched up and bloodied.
The bird was turned over to an animal rescue volunteer and was examined by a veterinarian. It had a cut on its head and bruising on one leg, around an eye and on its wings, authorities said.
Records show Turpen lived "on and off" for 15 years with his three children and their mother, including in northeast Ann Arbor during the 1990s. He worked as a roofer until he fell off a roof and was injured, records show.
According to court documents, Turpen drank heavily and has a history of being physically abusive to the mother of his children. She twice obtained personal protection orders against him.
After their relationship fell apart in the late 1990s, records show she began dating another man, and Turpen didn't approve. Turpen was convicted in 2003 of assault with a dangerous weapon after he confronted the man outside an apartment complex in northeast Ann Arbor and cut him in the nose with a knife, records show.
Turpen's criminal record dates back at least 15 years, including other convictions for intimidating a witness, first-degree retail fraud, second-degree retail fraud and violating probation.
Records show that in 1999, a Superior Township woman obtained a personal protection order against Turpen after she asked him on a date to her class reunion. According to a letter she wrote in her application for that order, Turpen drank heavily at the reunion and "leaned over me and bit me on the shoulder and above my left breast."
She wrote Turpen was looking for someone to beat up and then harassed a deejay, swearing at her when she attempted to calm him down. She called 911 and police responded, records show.
Turpen is scheduled to return to court for a preliminary hearing on Sept. 29.
Lee Higgins covers crime and courts for AnnArbor.com. He can be reached by phone at (734) 623-2527 and e-mail at leehiggins@annarbor.com.