Posted on
Sun, Nov 6, 2011 : 4:06 p.m.
Man convicted on illegal dog fighting charges has warrant out for his arrest
By Kyle Feldscher
An Ypsilanti Township man who was convicted of violating his probation for multiple counts of dog fighting earlier this year has a warrant out for his arrest after missing a court hearing Thursday.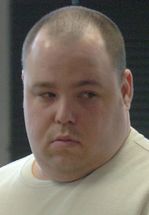 Ricky Lee Lynch Jr. was not present in Washtenaw County Trial Court Judge David Swartz's courtroom for a probation violation hearing Thursday for a case in which he was originally charged with 10 counts related to dog fighting. Swartz issued a bench warrant for his arrest.
Lynch pleaded guilty in 2008 to four counts of illegal dog fighting after a Humane Society of Huron Valley investigation. Investigators found more than a dozen dogs bred for fighting, fight logs, training videos and medical equipment used to treat animals at his home. After he was arrested, 17 pit bulls were euthanized.
Earlier this year, Lynch was found guilty of violating his probation and was sentenced to five years of probation and ordered to pay $15,000. He is also not allowed to own animals.
When he pleaded guilty to violating probation in July 2010, Lynch admitted he did not pay the $15,000 in fines he had been ordered to pay in 2008, nor did he perform the 500 hours of community service required.
Kyle Feldscher covers cops and courts for AnnArbor.com. He can be reached at kylefeldscher@annarbor.com or you can follow him on Twitter.