Posted on
Wed, Dec 7, 2011 : 5:36 p.m.
Man in wheelchair struck by hit-and-run driver in downtown Ann Arbor
By Julie Baker
Editor's note: This story has been updated with quotes from Robert Olada.
Witnesses came to the aid of a man in a motorized wheelchair this afternoon when the man was left lying in a pedestrian crosswalk after his wheelchair was struck by a hit-and-run driver in downtown Ann Arbor.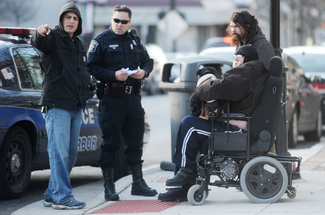 Melanie Maxwell I AnnArbor.com
Witnesses to the incident, which happened just before 3 p.m. Wednesday, included an AnnArbor.com staff member.
They said that a woman driving a black Jeep struck the man's wheelchair as he crossed East Liberty Street at the Fifth Avenue intersection, near Afternoon Delight.
The man and the dog that was riding in his lap were knocked to the ground as the wheelchair overturned.
Robert Olada of Dearborn Heights said that he stopped his vehicle near the post office once he realized what had happened. He and others helped the man back into his wheelchair.
The man in the wheelchair, along with a number of other pedestrians, were crossing Liberty when the Jeep turned at the corner after reportedly honking at a wrong-way driver on Fifth, Olada said. The other pedestrians were able to quickly get out of the way, but, "the man in the wheelchair couldn't move too quick." The collision completely spun the wheelchair, Olada said.
"Thank God he wasn't in front of that vehicle," he said, adding that the SUV didn't appear to brake or slow down to acknowledge the crash.
A number of kids chased the Jeep west down Liberty, while police were called. The kids were able to get the Jeep's license plate number, he said, adding that he saw the vehicle serve around other cars and run a red light afterward.
The man in the wheelchair told bystanders that he felt somewhat sore, but refused further medical treatment. He told them he had a metal plate in his leg where he was hit. Witnesses said the man appeared shaken up, but was otherwise OK.
"It seemed like the fellow that was hit was in good spirits," Olada said, adding that he seemed more concerned with his dog, who was visibly trembling.
Olada said he was shocked that it had happened, especially since the incident took place downtown in the middle of the afternoon, when many people were around. "I couldn't believe that someone would be so insensitive to hit a man in a wheelchair and keep going."
After filing a police report, the man and his dog rode away.
Police said later Wednesday that they hadn't located the hit-and-run driver.