Posted on
Thu, Dec 9, 2010 : 6:30 p.m.
Man pleads guilty in Ypsilanti Township real estate fraud case; will likely avoid jail time
By Lee Higgins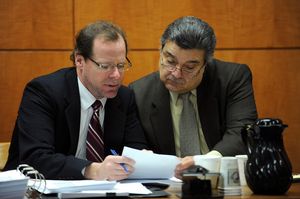 A developer who investigators say defrauded home buyers and subcontractors out of roughly $700,000 as he failed to complete an Ypsilanti Township condominium project several years ago has pleaded guilty to numerous charges in the case.
Robert Paul George, 63, of Royal Oak, the developer of Crystal Pond Condominiums, is scheduled to be sentenced next month, but has reached an agreement with Washtenaw County Circuit Judge Donald Shelton that will spare him any jail time provided he pays restitution.
On Monday, George pleaded guilty to nine counts of fraudulent use of building contract funds, two counts of larceny by conversion of more than $1,000 but less than $20,000 and one count of larceny by false pretenses of more than $999 but less than $20,000. He also pleaded no contest to larceny by conversion of $20,000 or more, court records show.
According to Washtenaw County sheriff's investigators, George accepted deposits and other money from home buyers and kept it for personal use. Only two of the project's 14 units were completed, deputies said.
Under the sentencing agreement, George is expected to be put on probation for five years and will be given an opportunity to pay $873,387 in restitution. He must pay $50,000 of that amount by the time he is sentenced on Jan. 25, prosecutors said.
For the first year of probation, George must pay $4,000 each month in restitution. The monthly payments increase by $1,000 for each year thereafter until the probation is completed, prosecutors said. George must pay the remainder of the money in full by the end of his probation, Washtenaw County Chief Deputy Assistant Prosecutor Steve Hiller said.
The plea comes after a five-year investigation by deputies. At least twelve individuals or couples were victimized in the case, prosecutors said.
Lee Higgins covers crime and courts for AnnArbor.com. He can be reached by phone at (734) 623-2527 and email at leehiggins@annarbor.com.