Posted on
Tue, Nov 15, 2011 : 8:23 a.m.
Man pleads guilty to stealing materials from construction site
By Kyle Feldscher
A Canton Township man may spend up to five years in prison after pleading guilty Monday to breaking into a building under construction.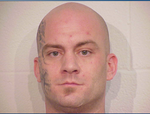 Courtesy Michigan Department of Corrections
Richard Sherwood, 33, pleaded guilty to three counts of entering a building with the intent to commit a crime and one count of larceny in a building of materials costing more than $1,000 but less than $20,000 in front of Washtenaw County Trial Court Judge Melinda Morris Monday. In exchange, Washtenaw County prosecutors dropped four other charges he was facing as a part of four criminal cases.
According to police, Sherwood and Thomas Vickery, an Ypsilanti Township man, broke into a building under construction at 5725 Hines Drive in July and took building materials belonging to Tecumseh Products. Pittsfield Township police arrested the two of them on Aug. 1.
The Pittsfield Township police worked with officers from Eastern Michigan University and the University of Michigan public safety departments during the investigation.
Sherwood faces between 18 months and five years in prison and a $2,500 fine for each charge of entering a building with the intent to commit a crime and between 18 months and four years in prison for the larceny in a building charge.
Sherwood has previously served time in prison for two charges of assault with a dangerous weapon and a felony firearms charge from a September 2003 incident, according to state records. He is currently on probation for being convicted of possession of cocaine in March 2010, according to state records.
Sherwood is currently being held in the Washtenaw County Jail. He will return to Morris' courtroom for sentencing at 1:30 p.m. Dec. 12.
Kyle Feldscher covers cops and courts for AnnArbor.com. He can be reached at kylefeldscher@annarbor.com or you can follow him on Twitter.