Posted on
Wed, Apr 17, 2013 : 4:30 p.m.
Police: Man sabotages microwave to start fire at Ann Arbor hotel
By Kyle Feldscher
A 33-year-old Ann Arbor man jonesing for a late-night snack decided to destroy the breakfast bar area of a local hotel and started a fire by sabotaging a microwave, police said.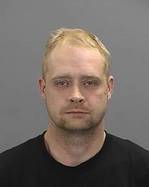 Courtesy of the Washtenaw County Sheriff's Office
Derek May, 33, was arrested after Ann Arbor police and firefighters responded about 2 a.m. Wednesday to the Clarion Hotel, 2900 Jackson Ave., Ann Arbor police Detective Bill Stanford said. Stanford said May told him in an interview he was with a friend earlier in the night and was hungry when he returned to the hotel.
May tried to find some food and then began throwing items around the breakfast bar area of the hotel, Stanford said.
"He was using food items to damage the kitchen and was basically destroying items and tables and chairs and such," Stanford said.
May also sabotaged a microwave, causing it to light on fire, Stanford said. A hotel employee called emergency personnel after seeing smoke coming from the breakfast bar area.
There was no damage estimate immediately available. Stanford said May was found hiding under a vehicle in the hotel's parking lot.
Alcohol appears to be a factor in the incident, Stanford said.
Court records show May is facing charges of breaking and entering with intent to commit a crime, larceny in a building, malicious destruction of personal property between $200 and $1,000 and malicious destruction of a building between $200 and $1,000.
May was arraigned Wednesday afternoon, according to jail records. He was lodged at the jail on a 10 percent of $5,000 bond on the breaking and entering charge, records show. He's scheduled to return to court for a preliminary exam at 8:30 a.m. April 25, according to jail records.