Posted on
Wed, Nov 16, 2011 : 10:56 a.m.
Intoxicated driver gets 22 years in prison for killing woman in crash
By Lee Higgins
A man who was driving under the influence of alcohol and drugs when he caused a five-car accident in Ypsilanti Township last year, killing a woman and injuring her two children, was sentenced this morning to a minimum of 22.5 years in prison.
Bradley Wayne Howard, 35, of Ypsilanti Township, pleaded guilty last month to second-degree murder and a host of other charges in the Oct. 26, 2010 death of 32-year-old Stephanie Joyce Stone of Canton Township.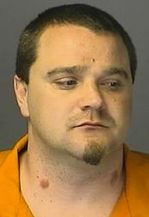 Prior to being sentenced by Washtenaw County Circuit Judge Archie Brown, Howard said his condolences go out to everyone involved and he's prepared to accept the consequences of his actions.
"There is no sentence this court can give me that compares to the hurt I've felt every day for what I've done."
Brown sentenced Howard to a minimum of 22.5 and maximum of 50 years in prison, with credit for 384 days of time served.
In addition to second-degree murder, Howard pleaded guilty Oct. 3 to operating while intoxicated causing death, operating while intoxicated causing serious injury, operating while intoxicated third-offense, failing to stop at an accident causing death, failing to stop at an accident causing injuries, operating with a suspended license causing death, operating with a suspended license causing serious injury, operating with a suspended license second-offense and having an open container.
Three of Stone's family members spoke during the hearing, all of whom questioned whether Howard had any remorse. Stone's son, Brandon Miller, who was 13 at the time a front seat passenger in Stone's car, was seriously injured. Stone's daughter, Savanna Miller, who was 11 at the time and a back seat passenger, suffered minor injuries.
Washtenaw County sheriff's deputies said Howard was intoxicated and driving with a suspended license when he ran a red light and barreled through the intersection of Ecorse and Harris roads in a 1995 Ford Mustang at an estimated 60 to 80 miles per hour. His car struck Stone's 2002 Ford Taurus, pushing it into three other cars.
Stone died at the scene of multiple traumatic injuries after the 4:40 p.m. accident. Howard walked away from the scene, witnesses said. Howard told investigators he drank two or three 24-ounce Bud Ice beers and had an open Bud Ice in the car as he sped through the intersection. Prior to getting behind the wheel, Howard also smoked at least one joint and took six Xanax, investigators said.
Stone's stepmother, Brenda Holder, said in court that Stone was a wonderful, loving, kind and caring person. Stone was loyal to her friends and adored her children, Holder said. Holder recalls when Savanna was in the emergency room after the accident.
"She kept asking for mommy," Holder said. Brandon wasn't able to speak with anyone until six days after the accident, she said. When he woke up in the hospital, family members had to tell him that he was in an accident and his mother didn't survive, Holder said.
Holder said Brandon may never be able to play sports again because of his injuries. No one will know the feeling she had when she was called to the scene of the accident that day a block from her home, she said.
"No one will ever know the feeling I had when I tried to get to the car to be with Stephanie and hold her in my arms and tell her that I loved her," she said. "I wasn't allowed to do that."
Holder sobbed and hugged Stone's mother, Pamela Holder, as she returned to her seat. Pamela Holder read a letter in court that Savanna wrote to Howard.
"My name is Savanna," the letter said. "I don't hate you, but I don't like you. You took my mommy away. Now, I never get to see her or hear her voice again...I really hope you learned your lesson. It's sad you had to take somebody's life to learn a lesson."
After she finished reading the letter, Holder told Howard that he has done nothing but make excuses. She cries for her daughter and her grandchildren cry for their mother every day, she said.
"I don't know when it will go away, if it will go away," she said.
She said if Howard had any remorse he should turn, look Savanna in the eye, and tell Savanna that he killed her mother because of his stupidity. Howard didn't turn when he addressed the court.
Stone's cousin, Heather Dawkins, told Howard she wanted him to remember what he had done.
"I hope that every day you sit in that cell you think of my cousin...and you picture her face in your mind....I love you Stephanie. Rest in peace."
Lee Higgins covers crime and courts for AnnArbor.com. He can be reached by phone at (734) 623-2527 and email at leehiggins@annarbor.com.