updated at 4:47 p.m.:

Critical condition: 1 man shot, 1 man hit by car after incident Tuesday morning in Ypsilanti Township

Posted on Tue, Jul 10, 2012 : 11:18 a.m.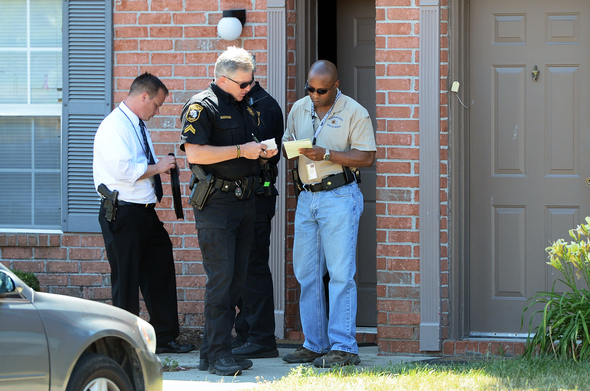 Melanie Maxwell I AnnArbor.com

One man was shot in the leg during an incident Tuesday morning in Ypsilanti Township. The person who drove him to the hospital was struck by a vehicle shortly after dropping off the victim, according to sheriff's deputies. Both are in critical condition at the hospital.

Washtenaw County Sheriff's Office Sgt. Geoffrey Fox said deputies responded about 10:45 a.m. Tuesday to the 300 block of Bedford Drive after being alerted one man had been shot in the knee.

The situation was still unfolding Tuesday morning, and police were sorting out details. The address is in Huron Ridge Apartments, located near Clark Road at LeForge Road.

Fox said the man who was shot was dropped off at the hospital and the driver went back to his apartment on Chestnut Drive, across Clark Road from St. Joe's. The man was then struck by a vehicle in the parking lot.

"He's been taken (to the hospital) by ambulance," Fox said. "He has injuries, but we don't know how bad they are."

Deputies had no suspect description or information to release as of 11:15 a.m. Tuesday.

Update at 12:12 p.m.: Police dogs from the sheriff's office K-9 unit are scouring the area being the unit where the shooting occurred.

According to Fox, police are waiting to obtain a search warrant to get inside the unit.

Update at 12:47 p.m.:

The shooting victim and a person who was hit by a vehicle are both in critical condition at St. Joseph Mercy Hospital, according to a release from the Washtenaw County Sheriff's Office.

The shooting victim was dropped off at the hospital by a subject. The driver then left the area and went to a nearby apartment complex. The subject ran out into the parking lot and was struck by a passing car.

"Early indications are that this was not a random act of violence," the release said about the shooting. "We cannot confirm a motive at this time."

Two suspects fled the area on foot. They were described as black males with short hair and thin builds wearing black T-shirts and blue jeans.

Update 1:54 p.m.: Neighbors standing outside the scene didn't report seeing much Tuesday morning, with a few telling AnnArbor.com they stay inside their homes and mind their own business.

One woman, who asked not to be identified, said she saw a man jump out of the bed of a pick up truck, hop a gate and run away from the area. However, she didn't know much about the incident and didn't hear any shots.

She said it was unusual to have an incident this serious in the neighborhood. Deputies visit the area on occasion for minor calls for service, but she couldn't recall ever seeing a shooting.

"Oh no, it's not like that," she said. "You'll see police, but nothing like this."

Sgt. David Archer was on scene with investigators and said there is still a lot of narrative to work out on the incident. More information might be available later Tuesday afternoon, he said.

Update 4:47 p.m.:

Fox said the two victims are stable and have been interviewed. Police continue to follow up on leads, but are still at the scene processing for evidence.

Anyone with information on the shooting is encouraged to call the Washtenaw County Sheriff's Office at 734-973-4911 to speak with dispatchers or use the anonymous tip line at 734-973-7711.