WXYZ:

Man who held home invasion suspects: I'm no hero

Posted on Wed, Aug 15, 2012 : 7:03 p.m.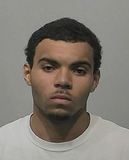 Ypsilanti Township man who held two teenage break-in suspects until police arrived last weekend doesn't see himself as a hero, WXYZ reported.

Michael Kennedy told the television station he was just doing the right thing.

Kennedy was at home Saturday morning when he heard glass breaking in the neighborhood and went to investigate, police said. At his neighbor's home in the 1400 block of Harry Street, he saw one person climbing out a window and another one standing by the patio door.

Kennedy told WXYZ he's licensed to carry a firearm and at first drew it out but then put it up when he saw the suspects were teenagers. Washtenaw County Sheriff's Sgt. Geoffrey Fox said Wednesday no gun was pointed at the suspects or displayed while they waited for police to arrive.
Rita Marshall told the station she's grateful to Kennedy for foiling the break-in at her home.
The suspects, Dezman Makowski-Smith, 18, and Donte Smith, 17, both of Ypsilanti, were arraigned Sunday on charges of home invasion and malicious destruction of property.