Man who robbed Denny's, Circle K to serve between 15 and 40 years in prison
Posted on Wed, Oct 24, 2012 : 9:06 a.m.
The 42-year-old man found guilty of robbing two Ann Arbor businesses of a total of $101 in April will spend between 15 and 40 years in prison.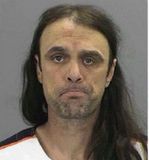 A jury convicted Jason Davis on two counts of armed robbery in September and on Tuesday, Washtenaw County Trial Court Judge Donald Shelton sentenced him to between 15 years and 40 years. Shelton pointed to Davis' long criminal history and the unlikely chance he'll be rehabilitated as reasons for the long sentence.
"I see little, if any, hope Mr. Davis will be rehabilitated enough to be on the street while he has the vitality to commit these crimes," Shelton said.
In addition, Davis was a parole absconder for a bank robbery conviction at the time of the robberies on April 14 and April 15. His sentence will be consecutive to any extended sentence he will get for violating parole.
Davis was convicted on charges he robbed the Denny's on Washtenaw Avenue and the Circle K gas station on Stadium Boulevard on April 14 and April 15, respectively. The Denny's robbery happened at 11:10 p.m. April 14 and the Circle K robbery occurred at 3:15 a.m. April 15.
Davis showed a BB gun and demanded cash from clerks at the two businesses. He maintains his innocence, according to Erika Julien, his lawyer.
In court Tuesday, Davis expressed his concern for the victims in the crime and said he regretted being involved at all.
"I deeply regret that I had any involvement with these proceedings," he said. "I totally submit myself to your mercy, Your Honor."
Despite Davis' expression of regret during his statement, Washtenaw County Assistant Prosecutor Blaine Longsworth said Davis plans to appeal his conviction and shows no remorse for the crime.
Longsworth read off Davis' criminal history for Shelton before Davis was sentenced. State records show convictions for bank robbery in 2007, two counts of larceny in a building for a 2003 incident, escaping from prison in 1999 and two counts of armed robbery in 1990.
"We're dealing with a defendant who has at least five armed robbery convictions," Longsworth said, adding later, "He shows no remorse … he plans to appeal the conviction."
Julien said it's not surprising Davis shows no remorse for the crime because he feels he was wrongly convicted. She reiterated the point he plans to appeal the conviction.
She said Davis was not doing well on parole; indeed, he had been listed on state records as an absconder before his arrest. Now that he faces the maximum punishment for the bank robbery conviction — which is life in prison — Davis faces a long, possibly unending, wait to get out of prison, she said.
"Mr. Davis has a long wait in front of him before he ever comes out of prison," she said.