Man who robbed same bank twice in 5 months sentenced to prison
Posted on Thu, Sep 27, 2012 : 5:58 a.m.
The man who admitted robbing the same PNC Bank twice this year, will serve between nine and 20 years in prison and pay back the $2,000 he stole.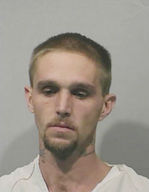 Courtesy of the Washtenaw County Sheriff's Office
Washtenaw County Trial Court Judge
Archie Brown
sentenced
James Murdock
, 34, according to the terms of the sentencing agreement made when he
pleaded guilty to the armed robbery charge
in August. In exchange for his guilty plea, prosecutors agreed not to charge Murdock with the other robbery at the bank.
Murdock admitted robbing the PNC Bank at 2140 Rawsonville Road in Ypsilanti Township on Feb. 1 and June 26. He will serve his prison term for the June 26 robbery and prosecutors will not be charging him in the Feb. 1 robbery, according to the plea agreement.
Murdock admitted to passing a note to a bank teller on June 26, telling her to "give me the money or I'll shoot the place up," said John Vela, Murdock's attorney. He argued against a finding in the pre-sentence report that Murdock placed multiple bank tellers and customers in danger when he passed the note to the teller. Washtenaw County Assistant Prosecutor Dianna Collins said the note put everyone in the bank in danger.
"The defendant threatened to kill everyone in the area or something to that effect," she said.
Vela retorted no one was in danger because Murdock did not have a gun or any other weapon and only one teller saw the note.
"Nobody was placed in any life-threatening danger," Vela said, later adding, "There were no weapons. There were no guns, no bombs, nothing."
Murdock chose to stay mostly silent during the hearing, giving yes or no answers to Brown when asked if he understood the sentence and declining to say anything on his behalf before the official sentence was handed down.
Murdock must serve the sentence consecutively to the four felony convictions for which he was on parole when he robbed the PNC Bank. Three of those convictions are first-degree retail frauds from incidents in 2004, 2005 and 2009, and the fourth is an unarmed robbery conviction for an October 2005 incident, state records show. He was sentenced to between two and 15 years for that crime, according to records.
He was sentenced to between one and a half years and five years in prison for the 2009 and 2005 retail frauds and between two and 10 years for the 2004 retail fraud, according to records.
Records show Murdock was paroled on Sept. 7, 2011, and was going to be discharged on March 7, 2013.
Murdock is also required to pay $2,526 in court costs and attorney fees, in addition to repaying the $2,000 stolen during the robbery, Brown ruled.