Posted on
Fri, Jun 14, 2013 : 11:45 a.m.
Drunken driver involved in Burger King disturbance sentenced up to 5 years
By John Counts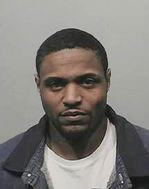 Courtesy of WCSO
A 39-year-old Ypsilanti man was sentenced Thursday to up to five years in prison for striking a police officer with his vehicle while driving drunk in the parking lot of a Pittsfield Township Burger King.
It was just the latest drunken driving conviction for Robert Lamont Addie, his attorneys said he has been convicted on felony charges of operating while intoxicated three times now. In previous court proceedings, it was revealed Addie also was convicted of drunken driving in 1994, 1999, 2001 and 2006.
Judge David Swartz sentenced Addie to 2 to 5 years on operating while intoxicated, third offense, 2 to 4 years on one count of assault with a dangerous weapon and 1 to 2 years on resisting arrest charges. The sentences will run concurrently.
Addie apologized to the court, his family and the police officer he struck.
"I wish I could take the day back," he said. "It hurts me deeply. My deepest apologies go to the officer."
Swartz wouldn't immediately make a decision about whether he would allow Addie to do Michigan Department of Corrections boot camp. Assistant Washtenaw County Prosecutor John Vella pointed out Addie already had been sentenced to boot camp on one of his prior felony drunken driving convictions.
Assistant Washtenaw County Public Defender Christopher Renna said Addie had lifelong alcohol problems and requested boot camp be an option.
"He's someone who made a terrible, terrible decision getting in a car that day," Renna said. "He feels horrible about what he did to this officer."
Swartz said he would make a decision about boot camp if and when the department of corrections decided Addie qualified for it.
Pittsfield Township police initially were called to the Burger King at 6190 W. Michigan Ave., — nearly right across the street from the police station — at 1:38 p.m. on Feb. 14, after receiving reports that two men inside a 2003 Ford Taurus were "causing a disturbance with employees" as they went through the drive-thru.
Officers repeatedly told Addie, who was driving, to park the Taurus.
Police say Addie accelerated at a high rate of speed through the parking lot and struck an officer before leaving.
The officer was knocked to the ground and suffered minor injuries.
The officers pursued the Taurus on a short chase west on Michigan Avenue, which ended at Saulk Trail Drive. Police say Addie resisted arrest but eventually was subdued and taken into custody.
Swartz denied a request from the prosecution for $67 in restitution for the police officer's pants, which were torn during the incident.
John Counts covers cops and courts for AnnArbor.com. He can be reached at johncounts@annarbor.com or you can follow him on Twitter.