Man accused of stabbing acquaintance during fight about a woman takes plea deal
Posted on Sat, Jun 30, 2012 : 2:50 p.m.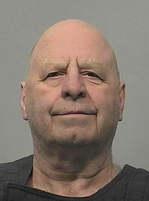 A 68-year-old man accused of stabbing another man in Ypsilanti Township last month pleaded no contest to lesser charges as a part of a plea agreement this week.

Earl Stegall, of Ypsilanti Township, pleaded no contest to assault with a dangerous weapon and possession or sale of a switchblade, according to court records. He was originally charged with assault with intent to murder and assault with intent to do bodily harm less than murder.

Stegall is accused of stabbing a 63-year-old man during a dispute about a woman, police said. The incident took place at 5:30 p.m. May 16 in the 600 block of Bagley in Ypsilanti Township.

A fight between the two men broke out with Stegall as the initiator, police said. He pulled out a medium-sized pocketknife and attacked the man, who received non-life threatening stab wounds to his upper body and cuts on his forearms and hands, police said

The victim still managed to restrain Stegall on the floor until police arrived.

Stegall will be sentenced at 1:30 p.m. Aug. 14 by Washtenaw County Trial Court Judge Donald Shelton, according to records. He will be required to pay $7,000 in restitution, including $1,500 at sentencing, records show.