Posted on
Fri, Nov 4, 2011 : 5:57 a.m.
Probation for man who stabbed 2 during fight at Greenwood block party
By Kyle Feldscher
A former University of Michigan student who stabbed two men at the Greenwood Avenue block party in April was sentenced to three years of probation on Thursday.
Michael Crist was arrested in June on four charges related to the April incident following the annual block party when he stabbed two men with a beer bottle during an altercation, police said. One of the 20-year-old victims nearly died from his injuries and had to be transported to University of Michigan Hospital, according to Washtenaw County Assistant Prosecutor Brenda Taylor.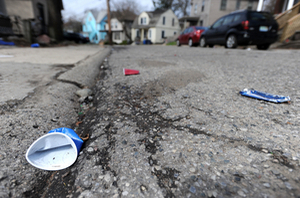 In a plea agreement, Crist was convicted of one count of assault with a dangerous weapon and had one count of assault with a dangerous weapon and two counts of assault and battery dismissed at sentencing.
He will serve three years probation with conditions that he not use alcohol or drugs and will submit to testing, according to Washtenaw County Trial Court Judge David Swartz's ruling.
Taylor said Crist affected his victims' lives in irreparable ways and should be required to take anger management classes. Swartz left that requirement for probation to decide.
"You do not bring a knife to a fistfight, and that is what Mr. Crist did," Taylor said.
Crist's lawyer, Douglas Mullkoff, said the incident was unfortunate and out of character for Crist. Mulkoff told Swartz that Crist was celebrating graduating from U-M after studying economics with some friends when two men, who Mullkoff said were highly intoxicated, made their way into the group looking to fight.
Mullkoff said the two men struck Crist and one of his friends and Crist lashed out with a beer bottle that he was holding, severely injuring them. Mullkoff said Crist had a few drinks that night, but was not intoxicated.
"He used more force than was reasonable, as we look back with 20/20 hindsight," Mullkoff said. "But, he did not mean to injure anyone that night."
Crist declined the opportunity to speak in court before he was sentenced.
Swartz had made an agreement with Crist and Mullkoff that he would not sentence the defendant to jail if he pleaded guilty to the assault with a dangerous weapon charge.
He said he believed the incident was out of character for Crist, but could have also ended someone else's life.
"I totally agree that this was an unfortunate incident. Someone was very injured and it could've turned out a lot worse than it did," Swartz said.
"And, it's unfortunate because I am convinced that this behavior was out of character for the defendant and is not something he would have otherwise been involved in."
Kyle Feldscher covers cops and courts for AnnArbor.com. He can be reached at kylefeldscher@annarbor.com or you can follow him on Twitter.