Posted on
Mon, Dec 17, 2012 : 5:59 a.m.
Man who was one of Washtenaw County's 'most wanted' sentenced to 9 years in prison
By John Counts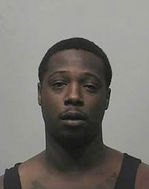 Courtesy of WCSO
Fredrick Shaw, a man whose name had appeared on Wastenaw County's "most-wanted" list, will spend 9-15 years in prison for shooting a gun off at Ypsilanti Township home where he had been kicked out of a card game in March.
Before the sentencing in the Washtenaw County Trial Court Thursday, Shaw told Judge David Swartz he was innocent of the charges and had only taken a plea deal in November because he knew his chance of winning a trial were slim.
"I've been in a lot of dumb situations, but does that make me dumb? No," Shaw said. "I was left without a choice in this situation."
Shaw, 30, pleaded no contest to charges of felon in possession of a firearm, two counts of assault with a dangerous weapon, discharge of a firearm in a building, felony firearm and unarmed robbery. A count of armed robbery and a habitual offender status were dismissed.
On the count of unarmed robbery, Swartz sentenced Shaw to 86-180 months plus a mandatory consecutive two-year term for the felony firearm charge. He received concurrent terms of 30-60 months for the firearm possession charge and 24-48 months on the other charges. Shaw had no jail time credited to his terms.
Swartz also ordered Shaw to pay restitution in an amount to be determined in 90 days.
Shaw was arrested on Aug. 13 during a traffic stop in York Township, said Sgt. Geoff Fox of the Washtenaw County Sheriff's Office.
"We received a tip that he was driving in that area and heading towards Ypsilanti Township," Fox said. "The car was located and stopped. Shaw was in the back seat lying down as if to hide from police. He was taken into custody without incident."
Earlier that month, the sheriff's office had added Shaw to its "most-wanted" list.
Police said Shaw was playing cards at an apartment in the 200 block of Hewitt Road in March. When the resident of the apartment told Shaw to leave, he became upset and an argument ensued. Police say Shaw left the apartment, but returned a short time later with a gun, which he pointed at multiple people in the room. He took money from one person and fired one shot that didn't hit anyone before leaving, police said.
John Counts covers cops and courts for AnnArbor.com. He can be reached at johncounts@annarbor.com or you can follow him on Twitter.