Posted on
Tue, Feb 19, 2013 : 5:58 a.m.
Bystander says he acted on instinct by tackling suspected purse snatcher
By Kyle Feldscher
Brad McNett wanted to visit Ann Arbor comic book shop Vault of Midnight Saturday morning, but before he could get there he ended up doing his own super hero impression.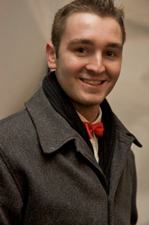 Courtesy of Brad McNett
McNett, 23, of Ann Arbor, said he saw a man struggling with a woman near an ATM in the 100 block of South Main Street in downtown Ann Arbor. Soon, the man was sprinting toward him with the woman's purse in hand.
Without thinking, McNett grabbed the man and threw him against a building, attempting to hold him until police could arrive.
"I was kind of hoping he would stop," McNett said, laughing.
"He was just trying to escape, never threw punches but there was a lot of grabbing. I was holding him around the neck and trying to keep him there."
The 27-year-old Ypsilanti man McNett stopped on Main Street was Christopher Courdway, who was charged with one count of unarmed robbery Sunday. He's being held in the Washtenaw County Jail on a $10,000 bond.
McNett and another man, who remains unidentified, stopped Courdway for a period of time, but he eventually escaped their grasp. McNett said Courdway's jacket slipped off and he dropped his backpack and the woman's purse before he escaped.
"He managed to break free and shot off across Main Street to the other side," McNett said. "I didn't chase after him because her purse was there and we had his stuff."
Ann Arbor police officers responded to the area and McNett hopped into a squad car with an officer to search for Courdway. His identification was left in his jacket and McNett said police were familiar with him. The officer driving McNett said she previously arrested Courdway twice.
Courdway eventually was caught about five blocks away after running south on Main Street. McNett wasn't in the car with the officers when Courdway was arrested, but he was happy to hear he'd been apprehended.
"I was glad they caught him and were able to get him off the street," McNett said.
When asked if he thought twice about grabbing Courdway as he ran on Main Street, McNett said he was acting on instinct. The thought that Courdway could've been armed never even crossed his mind.
McNett only spoke with the 41-year-old woman whose purse was grabbed briefly before he hopped in the squad car. He said he doesn't think he did anything impressive.
"I just did what I hope anyone would do," he said, adding, "just trying to help someone who can't help themselves."
Kyle Feldscher covers cops and courts for AnnArbor.com. He can be reached at kylefeldscher@annarbor.com or you can follow him on Twitter.