Posted on
Tue, Oct 30, 2012 : 9:05 a.m.
Man whose DNA was linked to 2009 rape seeking lineup identification
By John Counts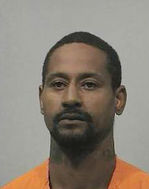 Courtesy of WCSO
The 43-year-old man whose DNA has been linked by police to a 2009 rape will file a motion to have a lineup identification.
An attorney for Anthony Derrick Chandler, of Ypsilanti Township, told Judge Melinda Morris in the Washtenaw County Trial Court on Monday that Chandler has not yet been afforded that option. Essentially, the defense would like the alleged victim to look at various faces in a lineup instead of just being a shown a picture of Chandler and asked if he was the suspect.
Morris said she would allow the motion to be filed and adjourned the case until Nov. 26 to allow the prosecution time to respond to it.
David I. Goldstein, Chandler's attorney, also hinted that a plea deal could be in the works during Chandler's brief court appearance Monday.
"There has been some discussion about resolution," he said.
Still, a trial date of Feb. 4 was set in the case.
Chandler is charged with first-degree CSC, assault with intent to murder, assault with intent to commit great bodily harm and assault with a dangerous weapon. He is accused of grabbing a woman and dragging her into a wooded area near the 80 block of South Harris in Ypsilanti Township in March 2009. Police say the woman was assaulted and raped until police arrived and she managed to get away.
Police did not make any arrests that night. Three years later, DNA found at the crime scene was linked to Chandler. He was charged in August.
On Oct. 2, Chandler waived a preliminary examination in district court and pleaded not guilty to all four counts. He remains held in the Washtenaw County Jail on a $150,000 cash or surety bond.
John Counts covers cops and courts for AnnArbor.com. He can be reached at johncounts@annarbor.com or you can follow him on Twitter.