Posted on
Thu, Oct 6, 2011 : 5:56 a.m.
Michigan is making a new class of criminal over traffic ticket fees under Driver Responsibility Program
By Rich Kinsey
If you are not wealthy, you had better be a good driver. The Driver Responsibility Program established by the Legislature in 2003 has created a new class of criminal in Michigan.
The program amounts to a double jeopardy fine for certain traffic offenses (www.michigan.gov/driverresponsibility/0,1607,7-213-32166---,00.html). That is, once you have paid the fine for certain violations, you still have to pay "driver responsibility" fees. Those driver responsibility fees may be up to $1,000 and must be paid for two years after your violation (e.g. a total of $2,000).
If you do not pay your driver's responsibility fines within 30 days, your license will be suspended. That becomes a huge problem because, if you are caught driving while your license is suspended, you will again be fined, and you will have to pay $500 driver's responsibility fees for the next two years in addition to the original driver responsibility fees you were assessed.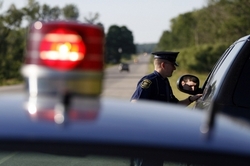 If you have a suspended license, you cannot get car insurance, because car insurance will only cover licensed drivers. With no insurance you cannot register your vehicle (i.e. you can not get a license plate or sticker).
If you drive with no insurance and expired plates, you can be cited. If you are cited you will have to pay fines and for no insurance you will now have to pay an additional driver's responsibility. For the failure to have car insurance, depending on how the violation is issued, driver responsibility fees are $500 or $200 per year for two years to maintain your driver's license.
Those driver's responsibility fees build up in a hurry and drive a person deeper and deeper into debt.
I know of one fellow who started with a traffic ticket he did not pay and got his license suspended. He drove on a suspended license to get to work in order to pay the fines and got another driving while license suspended ticket and thus more driver responsibility fees. The long and the short of this fellow's plight is that he became $14,000 in debt to the Michigan Secretary of State (driver's responsibility fines are actually paid to the state treasury).
This guy could not come up with the money without working. He could not work without driving. He is in a catch-22, between a rock and a hard spot predicament that has no cure in sight.
The Driver Responsibility Program has forced a guy like that to become an "outlaw" if he drives to get to work and just another un-employed worker in this state if he follows the law. What chance does a person have to get or keep a job if he cannot drive to work?
In 2009, the Driver Responsibility Program allowed some drivers to set up a payment plan for delinquent Driver Responsibility Fees. The plan allows drivers to space out payments of their Driver Responsibility Fees over two years and allows them to drive.
However do not forget between year one and two, more Driver Responsibility Fees are due.
OK, now let's say this driver gets all his fines and driver responsibility debts paid for. My goodness, what a relief it will be to get a valid license again. Hold the celebration on the valid license, though. That person must pay the $125 license reinstatement fee before being eligible for a license again — holy triple jeopardy, Batman!
What a wonderful state agency. If there are budget shortfalls, all you have to do is raise fines and come up with a program like the driver responsibility program.

This driver responsibility program is wrong. Most professionals in the criminal justice system think it is wrong. For this reason, many police officers are disregarding a driver's license suspension if the suspension is for non-payment of DRF (Driver's Responsibility Fees).
The officer who would have written a citation or sought prosecutorial authorization for driving with license suspended and seized that driver's actual license is now either not writing the ticket or writing a ticket for Operator Driving Without a Valid License. That puts the officer in a trick bag, however, if he allows an "unlicensed" driver to drive away.
If a Driving While License Suspended ticket goes to court and the suspension is for nonpayment of driver's responsibility fees, many times those prosecuting and the court will allow the driver to plead to No Operator's License on Person. This would seem to indicate that prosecutors and judges are not pleased with the Driver Responsibility Program either.
Michigan's Driver Responsibility Program is wrong and a bad way to raise revenue. In these desperate economic times, the last thing the State of Michigan needs is a program that is reminiscent of "debtor's prison" and establishes a whole new class of "criminals."
Lock it up, don't leave it unattended, be aware and watch out for your neighbors.
Rich Kinsey is a retired Ann Arbor police detective sergeant who now blogs about crime and safety for AnnArbor.com. He also serves as the Crime Stoppers coordinator for Washtenaw County.